Last updated: January 4th, 2018
---
What Is SnoreRx?
SnoreRx is a snoring mouthpiece that you can use to prevent snoring while you sleep. SnoreRx is a Mandibular Advancement Device (MAD) which means it's a mouthpiece that works by moving the lower jaw forward, preventing the vibration that causes snoring.
What Is A Snoring Mouthpiece?
Snoring mouthpieces, also referred to as "snore guards", "snoring mouth guards", "anti-snoring mouthpieces" and other similar names, are devices which advance the lower jaw to stop snoring. They are more technically referred to as Mandibular Advancement Devices. These devices are worn while sleeping to open the airway and stop snoring.
How Does SnoreRx Work?
SnoreRx works by keeping your airway open while you sleep. This is accomplished with an impression of your teeth that is kept in place while you sleep.
You first make an impression of your teeth at home using boiling water. After you've made a firm impression of your teeth, you lock the impression in place by adjusting the SnoreRx to the best position for you.
A firm impression of your teeth and a secure position of the mouthpiece in your mouth can keep you from snoring. You can adjust the settings on SnoreRx until your snoring stops, this may take a few nights.
What's In The SnoreRx Box?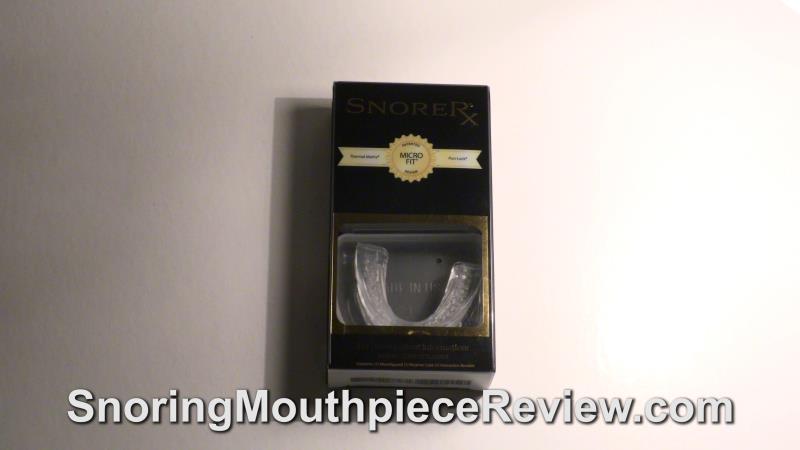 SnoreRx includes:
One (1) SnoreRx snoring device
One (1) storage case
Fitting instructions
Can SnoreRx Stop Your Snoring?
Yes, SnoreRx can stop your snoring if you do not have severe sleep apnea. If your snoring is from your nose, you may need to use nasal strips as well.
How Is SnoreRx Constructed?
SnoreRx is constructed of an upper and lower piece which you make an impression in with your teeth. This keeps SnoreRx in place while you sleep and helps keep the teeth in position so the device can work effectively. These impression layers attach to a solid upper and lower component which can be adjusted.
Who Is SnoreRx For?
SnoreRx was made for men and women 18 years and older with simple snoring that have healthy teeth and gums. It was approved by the FDA for snoring. It can also work for people with mild, but not severe, sleep apnea.
Who Should Not Use SnoreRx?
According to SnoreRx, their product should not be used if you:
What Side Effects Can Occur With SnoreRx?
According to the SnoreRx instruction booklet, the following may occur to some people:
What Are the Pros and Cons of SnoreRx?
Advantages
Highly customizable
Easy and fast to fit (you do it yourself at home using boiling water)
Can be re-adjusted multiple times
No adjustment tools required
Disadvantages
Cost (it's a bit more money than other snoring mouthpieces)
Not recommended for people with dentures or recent dental work such as implants
What Does SnoreRx Cost?
How Does SnoreRx Compare to Other Mouthpieces?
When reviewing, what sets SnoreRx apart from other snoring mouthpieces such as Zyppah are that it combines multiple fittings methods for maximum comfort and fit. SnoreRx uses a boil and bite method to make an impression of your teeth and then the position of the upper and lower parts can further be set.
Many mouthpieces only fit to your teeth using a boil and bite fit but SnoreRx takes this one step further and helps lock in the best position to stop snoring.
Can You Order SnoreRx In Canada or Outside the United States?
Yes, SnoreRx can be shipped to people in Canada and internationally.
Step-By-Step Fitting Instructions For SnoreRx
Note: You should brush your teeth before fitting SnoreRx
Required:
Stove (do not use microwave)
Sauce pan or teapot (to boil water)
Empty glass
3 quarts of water (2 for boiling, 1 to cool the mouthpiece)
Tongs (or spoon)
Timer (a phone or clock will work)
The SnoreRx mouthpiece
Fitting Process:
Boil 2 quarts of water and then turn the stove off
Drop SnoreRx into the boiled water for exactly 90 seconds then remove SnoreRx with tongs or spoon
Quickly dip SnoreRx into a glass of tap water, which should be at room temperature, for 3 seconds to remove hot water
Place SnoreRx in your mouth and bite down on it firmly for 30 seconds
Remove SnoreRx from your mouth and put it in a bowl of tap water for 60 seconds to set the impression
Adjust the setting to your bite (the device can be adjusted by 1 millimeter increments up to 6 millimeters)

The mouthpiece should default to "3" and this may be enough (most snoring should be reduced with a setting between 3-5mm)
Sqeeze the mouthpiece triangles in to disengage the locking mechanism, allowing the upper tray to remove
Advance the device by pulling forward on the lower jaw piece (listen for the clicks)
NOTE: If the device does not have a firm impression, repeat steps 1-5. Also, re-adjust the setting to the level that feels comfortable if needed.
How Much Can SnoreRx Be Adjusted?
You can re-mold your teeth by repeating the fitting steps up to 3 times.
Once you have a firm mold of your teeth, you can adjust the lower jaw settings in increments of 1 millimeter. There are 10 increments to adjust the mouthpiece, you can change the increments many times because they are solid parts.
The above shows SnoreRx without being adjusted much. This position leaves the lower jaw in a less open position.
The above shows SnoreRx advanced to the maximum position. At this position, the lower jaw is advanced far forward and opens the airway as much as possible.
Where Is SnoreRx Located?
United States. SnoreRx (Apnea Sciences Corporation) is based out of Beverly Hills, California. They ship from Southern California.
Where Can You Buy SnoreRx/ Where Can It Be Shipped?
You can buy SnoreRx here. It can be shipped anywhere in the world from the United States. This means it can easily be purchased if you live in Canada or Australia.
What's the Warranty/ Return Policy for SnoreRx?
SnoreRx offers a 30-day refund to ensure you are satisfied. If you need to return it, include your order number on the package. You do not need an RMA to return the device.
SnoreRx returns must be postmarked before 30 days from the date the product was delivered. They do not refund shipping costs.
How Long Will SnoreRx Last?
The device should last 12-18 months of repeat usage.
To ensure the longest lifespan for your SnoreRx, you should clean SnoreRx one or two times per week. Consider cleaning the device more if there are any stains or odors. The device should be dried every day after it is used to eliminate bacteria.
SnoreRx guarantees the product for 30-days. The molding is made only for your teeth.
How Do You Clean SnoreRx?

You should clean SnoreRx every morning.
To clean the device, wash it off with water and use an ultrasonic cleaner and/or denture cleaning solution. If you do not have these types of cleaners, you can brush SnoreRx with a toothbrush and toothpaste using warm water.
Avoid using abrasive solutions like ammonia, bleach or other household cleaners when cleaning SnoreRx.
You should allow SnoreRx to air dry, as it eliminates any bacterial build up on the device.
When not in use, store your SnoreRx in a cool dry place inside its case.
If you only clean the device with a toothbrush, SnoreRx recommends cleaning it with denture cleaning solution once a week or every two weeks.
You should consider cleaning the device more often if the device develops any odors, tastes, or stains.
You will want to deep clean the SnoreRx each week at least once as a minimum.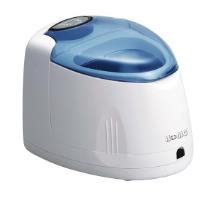 An ultrasonic cleaner uses sound waves to penetrate into crevices and cavities to remove particulates from dentures, retainers, mouth guards, and mouthpieces like SnoreRx. The cleaning process takes about 5 minutes when you use an ultrasonic cleaner.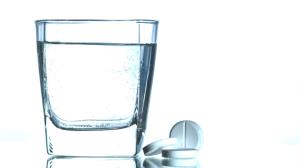 Denture cleaning solutions come in different forms. You can buy tablets or pastes to do this job.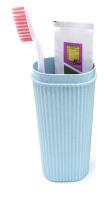 If you do not have an ultrasonic cleaner or cleaning tablets, you can use a toothbrush and a dab of toothpaste.
Does SnoreRx Work for Sleep Apnea?
No, SnoreRx is only designed for snoring and isn't intended for sleep apnea.
What Is SnoreRx Made Of?
SnoreRx is made of medical grade plastics. All parts used in SnoreRx are cleared by the FDA and are unlikely to cause any type of allergic reaction. SnoreRx is BPA free.
How Wide Is The SnoreRx Airway?
SnoreRx has an airway opening of 3 millimeters. This is less than some other devices. The wider the airway opening, the more likely the tongue will stick out of the device which can improve breathing.
Is SnoreRx Cleared By The FDA?
Yes, SnoreRx is cleared by the FDA (U.S. Food and Drug Administration) for snoring. This means that it has been reviewed by the United States government for safety and effectiveness.
Is SnoreRx BBB Accredited?
No, SnoreRx is not accredited by the BBB (Better Business Bureau). Their listing has 1 complaint about their customer service.
What If SnoreRx Does Not Work For You?
If you use SnoreRx and it does not work, you should first try re-fitting the device.
One of the most common problems with snoring mouthpieces is user error caused by an improper fit. Make sure you have a firm fit created from a good impression. Also, make sure that you advance the lower jaw as much as you can comfortably bare to ensure your airway is open.
If you have tried the product for two weeks after making the best possible impression and the most advanced position for the device you can tolerate without success, you can return it for a refund.
Can You Buy SnoreRx on Amazon or at Walmart, CVS or Walgreens?
No, you must buy SnoreRx from their website: here. SnoreRx sells direct to ensure quality for their customers and to comply with the FDA.
SnoreRx Details

Company Name
Apnea Sciences Corporation
Business Address
27121 Aliso Creek Road Aliso Viejo, California 92656
Mouthpiece Type
Mandibular Advancement Device (MAD)
FDA Cleared
Yes
Total Price
$99
BBB Status
Not accredited
Where Can You Buy SnoreRx RIGHT NOW?
Overall Review
SnoreRx is a highly adjustable snoring mouthpiece that combines a boil and bite fitting process with a calibration mechanism. You can re-adjust the mouthpiece multiple times until you find the most comfortable fit. SnoreRx does not require adjustment tools.
---