Last updated: January 4th, 2018
---
ZQuiet, An Easy To Use, Non-Fitted Mouthpiece
What Is ZQuiet?
ZQuiet is a snoring mouthpiece that was made to stop snoring easily. It's a single piece device that has a resilient hinge that moves the lower jaw forward to reduce the likelihood of snoring.
What Is A Snoring Mouthpiece?
Snoring mouthpieces, also referred to as "snore guards", "snoring mouth guards", "anti-snoring mouthpieces" and other similar names, are devices which advance the lower jaw to stop snoring. They are more technically referred to as mandibular advancement devices. These devices are worn while sleeping to open the airway and stop snoring.
How Does ZQuiet Work?
ZQuiet works by keeping your jaw in place to prevent it from falling back over your airway, which causes snoring. ZQuiet gives you 2 different devices which work by advancing the jaw to different positions.
ZQuiet is an easy to fit snoring mouthpiece. You simply put it in your mouth before you go to sleep with the "V" notch facing up.
It does not form a custom mold to your teeth like other mouthpieces so you do not need any special equipment, just open the package and begin using immediately.
Diagram 1: The above is a picture from ZQuiet's booklet which shows the parts of ZQuiet, which side goes up and where the airflows.
Diagram 2: The above is a picture of how to place ZQuiet into your mouth to prevent snoring.
Who Should Try ZQuiet?
ZQuiet is designed for people 18 years and older who seek treatment for nighttime snoring. It is best for people who do not want or need custom fitting of the device.
Who Should Not Use ZQuiet?
Don't use ZQuiet if:
Is ZQuiet FDA Cleared?
Yes, ZQuiet has been cleared by the FDA since 2010 as a class II intraoral device designed for the treatment of snoring.
What's Included In The ZQuiet Box?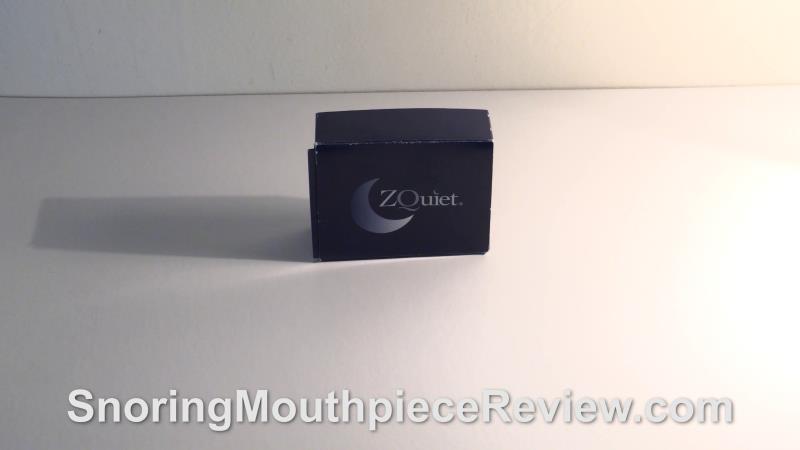 The above is a picture of ZQuiet's box before opening it.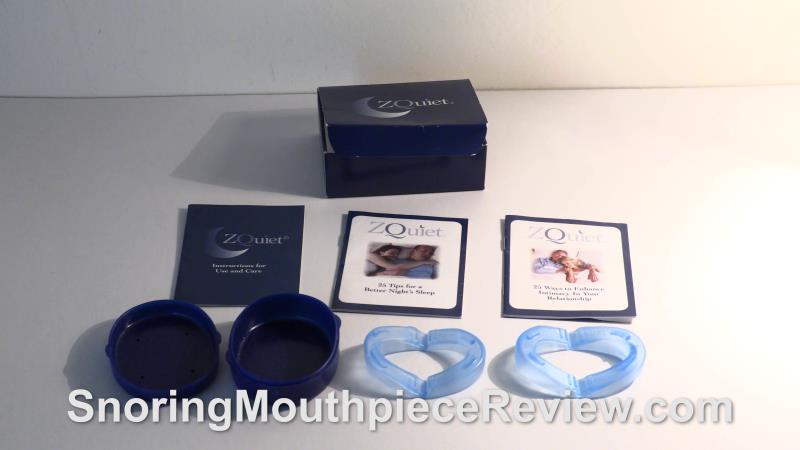 Two (2) ZQuiet anti-snoring mouthpieces

They are different sizes, you try the first to see if it fits and then the second if you need more jaw advancement

Travel case (fits both mouthpieces)
Booklet titled: "25 Ways to Enhance Intimacy In Your Relationship"
Booklet titled: "25 Tips for a Better Night's Sleep"
Booklet titled: "Instructions for Use and Care"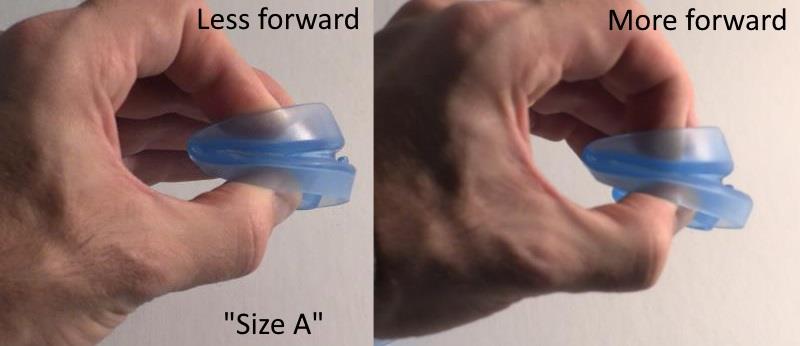 The above left ZQuiet is the "Size A" version. It's the smaller (less forward) mouthpiece that comes in the box. This model may be more comfortable but it doesn't advance the lower jaw forward as much as the other model that is included in the box. It is recommended to start with the first model and then use the second one if snoring persists.

The above right is a picture of the 2nd ZQuiet which is included in the box. It has a much further forward lower jaw position. This advancement is more likely to open the airway and stop snoring when it is used.
How Do You Fit ZQuiet?
ZQuiet does not require custom fitting to the impression of your teeth, you simply wear the device with the "V" notch pointing upward.
How Big Is The Airway Opening?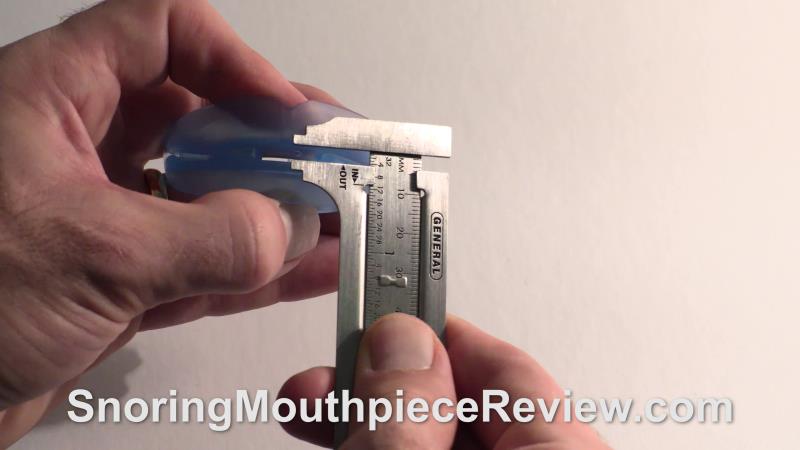 The size of the airway opening is important because larger airway openings make it easier to breath and also provide room for the tongue to stick out. ZQuiet uses a hinge so it can be open widely. When closed however, ZQuiet has an airway opening of only 3 millimeters, this is a rather small opening compared to some other mouthpieces.
Where Is ZQuiet Located?
United States. ZQuiet (Sleeping Well, LLC) is based out of Shelburne, Vermont
Who Owns ZQuiet and How Did The Company Start?
ZQuiet was co-founded by Daniel A. Webster in 2008. He sought a solution to his snoring problem after his wife informed him about her difficulty sleeping around his snoring. Webster tried surgery which was ineffective, painful and also not covered by insurance.
Daniel Webster found success after a dentist recommended a custom snoring mouthpiece. From there he began marketing ZQuiet on TV as a way to save relationships. ZQuiet is marketed at being a low cost introductory snoring solution.
How Much Does ZQuiet Cost?
ZQuiet costs $89.90. The order includes 2 ZQuiet snoring mouthpieces.
What Is The Warranty/ Return Policy For ZQuiet?
ZQuiet offers a 30-day trial period to confirm that you are satisfied with it.
If you need to return the product, you may call: 1-800-281-0543 between the hours of 8:00am and 5:00pm Monday - Friday EST (Eastern Time), Saturday 9:00am to 2:00pm to get your RMA number.
If the RMA was requested prior to the end of the 30-day trial, then you will not be charged the remaining amount for the mouthpiece.
The shipping and processing fees are non-refundable.
How Do You Maintain and Clean ZQuiet?

You can clean your ZQuiet by using a toothbrush and liquid dish soap.
Do not use toothpaste because it can damage the material and color of the mouthpiece. Make sure to remove all soap residue before use.
Store the mouthpiece in a dry case, like the one provided in the box.
Step-by-step cleaning instructions:
Fill a cup, bowl or basin with very warm water and a small amount of mild soap or detergent
Using a toothbrush, scrub all surfaces of the device vigorously for about 1-2 minutes
Rinse throughly with clean, warm water to remove all soap
After rinsing, shake off all excess water and pat dry with a soft, clean towel
Is ZQuiet BBB Accredited?
Yes, ZQuiet has been BBB accredited since 2014. They currently have 5 complaints on their BBB listing.
What Is ZQuiet Made Out Of?
ZQuiet is made of medical-grade plastic which is FDA approved. It does not contain latex or BPA. It's made of a non-toxic thermoplastic elastomer compound.
What Are the Pros and Cons of ZQuiet?
Pros
Does not require water, a heating source or any tools, making it easy to use on the spot
Orders include two devices instead of just one (this provides different settings)
Cons
ZQuiet lacks a custom fitting process that molds to your teeth, making it less secure in your mouth and a bit less comfortable than other devices
Some report jaw pain/ discomfort
Some report needing to put the device in hot water so that it is comfortable in their mouth
Not for people with dentures
ZQuiet Details

Company Name
Sleeping Well, LLC
Business Address
5247 Shelburne Road, Suite 204 Shelburne, VT 05482-7041
Mouthpiece Type
Mandibular Advancement Device (MAD)
FDA Cleared
Yes
Total Price
$89.90
BBB Status
Accredited
Overall Review of ZQuiet
ZQuiet is an easy to use snoring mouthpiece that would be ideal to use when it is not possible to boil water for a custom fit. It can be useful to hand to anyone who is snoring without going through a fitting process. It does not require adjustment tools and is a one size fits all device.
ZQuiet is not as effective or comfortable as other snoring mouthpieces because it does not require a custom mold of your teeth.
Where Can I Buy ZQuiet RIGHT NOW?
---