Last updated: May 13th, 2019
---
We participate in affiliate programs, where we are compensated for items purchased through links from our site (at no cost to the buyer). See our disclosure page for our list of comped products and affiliate programs.
---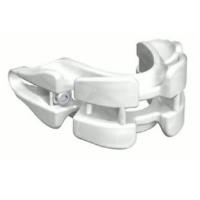 VitalSleep: Can I End My Snoring With This Mouthpiece?
VitalSleep is a snoring mouthpiece that is designed to prevent snoring.
VitalSleep uses a boil and bite fitting process in combination with adjustment tools. VitalSleep is a type of Mandibular Advancement Device (MAD) which means that it advances the lower jaw to open the airway using the teeth.
Review Contents
---
Ratings/ Pros And Cons
VitalSleep ratings
Pros and cons of VitalSleep
Pros:
The device has a large airway opening
The device is available in 2 sizes for: men and women
You can re-adjust the device using the adjustment tools without re-boiling it
Reasonable price
Cons:
The adjustment tools may be difficult for some some people
The mouthpice can easily be overheated (do not put in boiling water more than 10 seconds or it will become too soft and misshapen)
---
How It Works
How does VitalSleep work?
Most snoring is caused by a partial obstruction in the upper airway behind the tongue. When your airway is partially obstructed, this causes tissues in your nose and throat to vibrate and leads to snoring.
VitalSleep is intended to be used to reduce or stop your snoring. The mouthpiece pulls your lower jaw forward and creates an opening between the upper and lower jaw. This improves the airflow into your lungs while you sleep.
Smooth airflow into your lungs stops snoring. By using VitalSleep's adjustment tools, you can open your airway incrementally by advancing the lower jaw slightly more each night until snoring stops.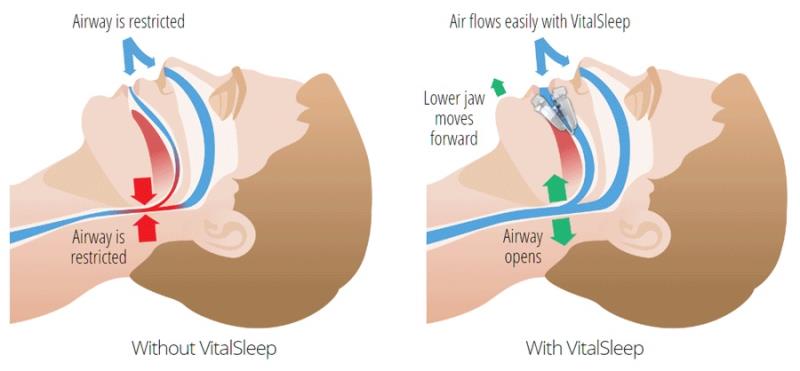 ---
Video Review
Video review of vitalSleep
This is a video review of VitalSleep for Snoring Mouthpiece Review:
The video review shows you:
What VitalSleep looks like
How it works
Actual results from using it
How to clean it
---
What's Included
When I buy VitalSleep, what do I get?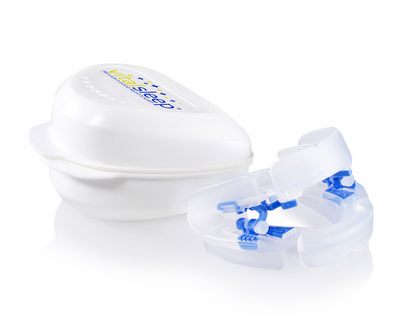 VitalSleep orders include:
One (1) VitalSleep stop snoring mouthpiece
Fitting/ care instructions
One (1) storage case
Fitting/ adjustment tools
This picture is of the package which contains VitalSleep and all of its pieces.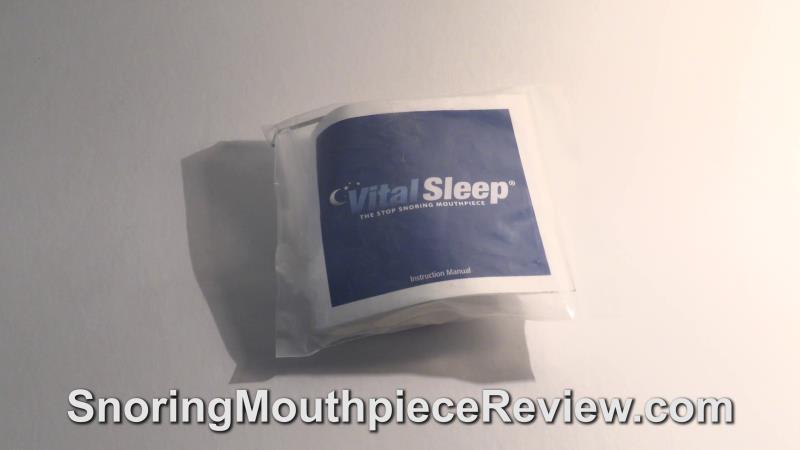 This picture shows a VitalSleep mouthpiece in its case with fitting adjustment tools.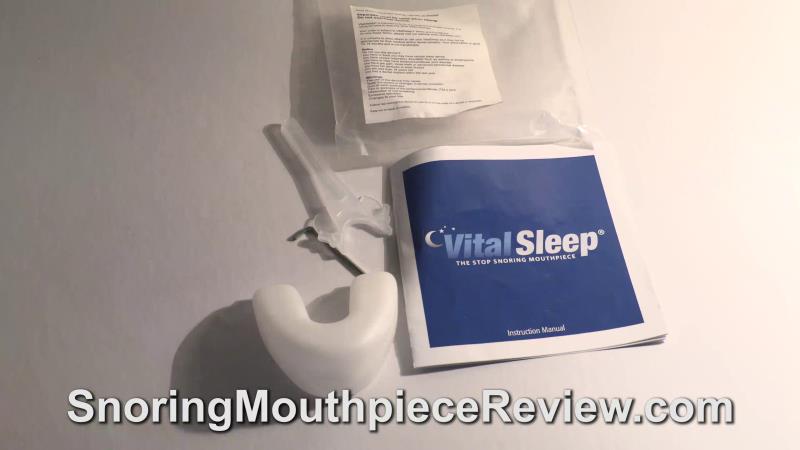 This is what the VitalSleep booklet looks like inside: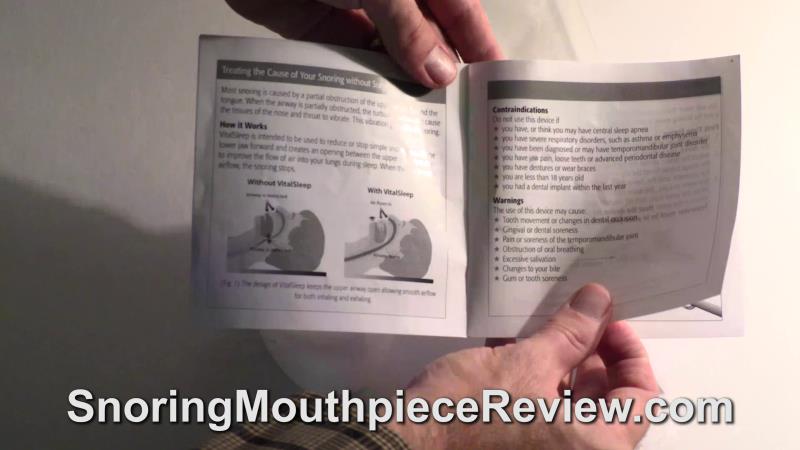 ---
Precautions/ Health Info
Who should not use VitalSleep?
Do not use VitalSleep if you:
Have full dentures or wear braces
Had a dental implant in the last year
Have severe respiratory disorders, such as asthma or emphysema
Are under 18 years of age
Have been diagnosed with Temporal Mandibular Joint Disorder (TMJ)
Have infections on your teeth or gums
Have had a jaw injury or jaw surgery within the last 5 years
Have central sleep apnea
Have loose teeth
Warnings about VitalSleep
As a disclaimer, VitalSleep mentions the following warnings in their booklet which could occur using their mouthpiece:
Tooth movement or changes in dental occlusion
Gingival or dental soreness
Pain or soreness of the temporomandibular joint
Obstruction of oral breathing
Excessive salivation
Changes to your bite
Gum or tooth soreness
Can VitalSleep replace my CPAP machine?
No. VitalSleep is for simple snoring and is not designed as a CPAP replacement for those with sleep apnea. You should talk to your doctor about the use of a snoring mouthpiece to address sleep apnea.
Does VitalSleep treat sleep apnea?
No, VitalSleep is designed to reduce snoring. It is not intended to treat sleep apnea unless directed by a dentist or physician.
Can I wear VitalSleep with bces or a retainer?
No. The VitalSleep mouthpiece will not fit your mouth correctly if you have braces or wear a retainer.
Can I wear VitalSleep with an overbite?
No. VitalSleep is not recommended for people who have an overbite because it will most likely not fit correctly.
Is VitalSleep FDA Cleared?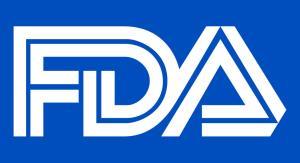 Yes, VitalSleep has been FDA cleared for snoring.
---
Product Details
Who is VitalSleep for?
VitalSleep is designed for adults that snore. If you have partial dentures and some front teeth on both your upper and lower jaws, then VitalSleep may work for you.
How long does VitalSleep last?
VitalSleep should last at least 1 year of normal use. This is why VitalSleep will replace your order for up to 1 year.
How much jaw advancement does VitalSleep offer?
VitalSleep can be adjusted incrementally up to 7 millimeters.
How is VitalSleep designed?
VitalSleep uses an adjustable, patented design to prevent snoring.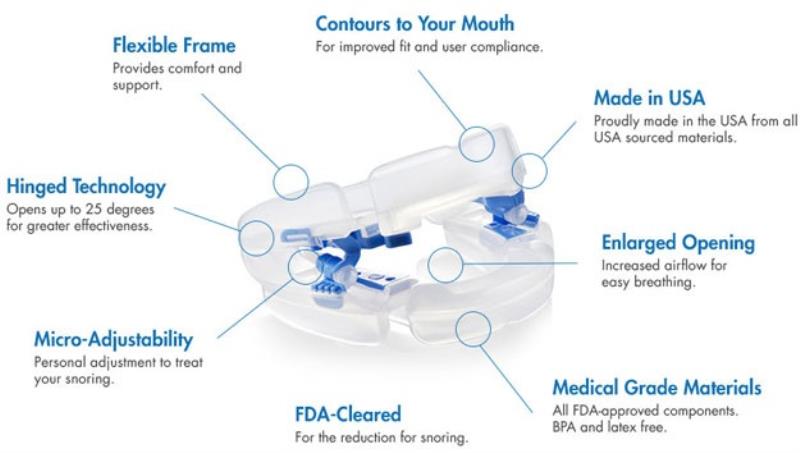 What Is VitalSleep Made Of?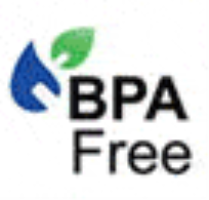 VitalSleep is made of flexible FDA approved, medical-grade safe materials. The materials are Elvax and Delrin, created by Dupont.
VitalSleep is BPA and laxtex free with no metal components.
What makes VitalSleep unique?
VitalSleep comes in multiple sizes, for men and women. Additionally, VitalSleep has a large opening for improved airflow at night (6mm).
VitalSleep includes custom adjustment tools to advance the jaw to the ideal position for you to stop snoring. You can re-adjust VitalSleep using their tools to many times without the need to refit the mouthpiece. The adjustment tools are easier to use than most other snoring mouthpieces.
How wide is the VitalSleep airway?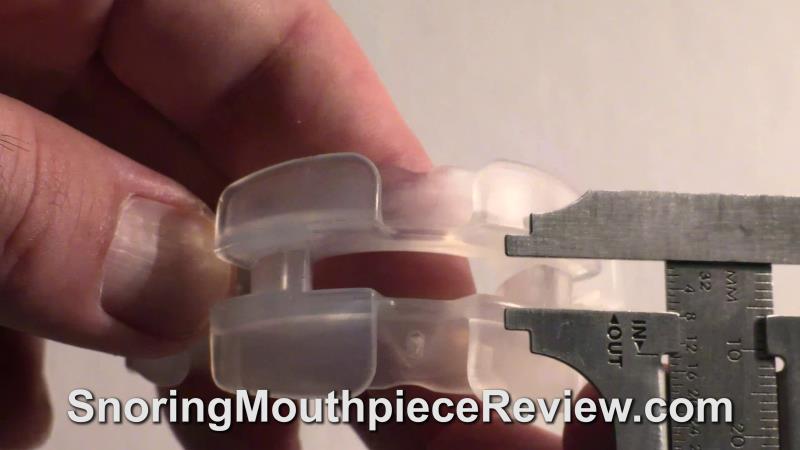 VitalSleep has an airway of 6 millimeters. This is a wide opening that can allow the tip of the tongue to advance forward, resulting in a less snoring.
Are there different sizes of VitalSleep?
Yes, unlike many other snoring mouthpieces, VitalSleep comes in different sizes.
Men (regular)

Recommended for all men, even those with smaller mouths

Women (small)
What's the best size of VitalSleep to order?
Men should order the regular size and women should order the smaller size. Even men with a smaller mouth should order the regular size. VitalSleep offers you a free size replacement if the size you order is too big or too small.
The smaller size, for women, is about 15% smaller than the normal size.
To know which size you have, look at the right side of the mouthpiece. The regular size of the mouthpiece has an "R" on the right side of the hinge while the smaller size has an "S".
Where is VitalSleep made?

How does VitalSleep compare with other snoring mouthpieces?
VitalSleep is different because it has a large airway opening, male and female sizes and uses adjustment tools. The large airway opening and adjustable lower-half of the mouthpiece allow for increased airflow. This can result in better sleep and less snoring.
VitalSleep's fitting process is also a bit different because it does not create as deep of an impression as some other mouthpieces.
VitalSleep vs. Zyppah
VitalSleep differs from Zyppah in the following ways:
VitalSleep uses adjustment tools to advance the lower jaw incrementally while Zyppah has a one-size-fits-all advancement
VitalSleep's impression of your teeth is not as secure as that of Zyppah
VitalSleep doesn't have an elastic band to keep your tongue in place like Zyppah
VitalSleep is made of softer material than Zyppah
VitalSleep can overheat more easily than Zyppah
VitalSleep vs. SnoreRx
VitalSleep differs from SnoreRx in the following ways:
VitalSleep uses adjustment tools to advance the lower jaw incrementally by rotating a screw while SnoreRx uses fixed 1mm increments to make jaw adjustments
VitalSleep does not leave impressions of your teeth which are as secure or deep as SnoreRx
VitalSleep's materials are softer and less durable than SnoreRx
---
Patient Results
Actual patient tesults from wearing VitalSleep
A patient who snored wore VitalSleep for two consecutive nights. Before wearing VitalSleep, the patient recorded snoring. While wearing VitalSleep, the patient snored less.
The results, captured using a snoring app, show that the snoring was reduced in both duration and intensity each night. The patient kept the mouthpiece close to its default adjustment setting while wearing the mouthpiece. Therefore, it's possible their snoring could have been further reduced over time with incremental adjustments. These results indicate that VitalSleep can show an improve in snoring immediately.
Before: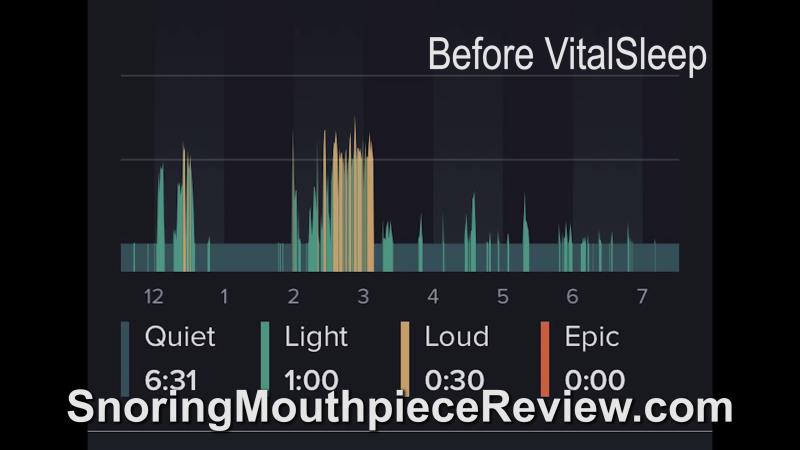 With VitalSleep:
Night 1: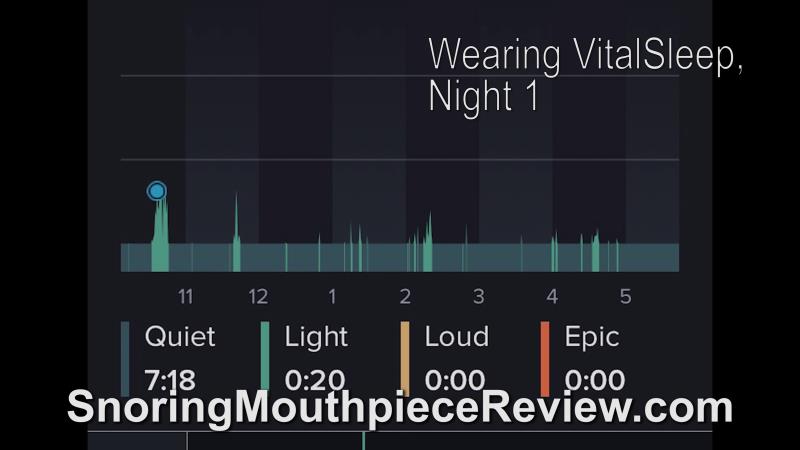 Night 2: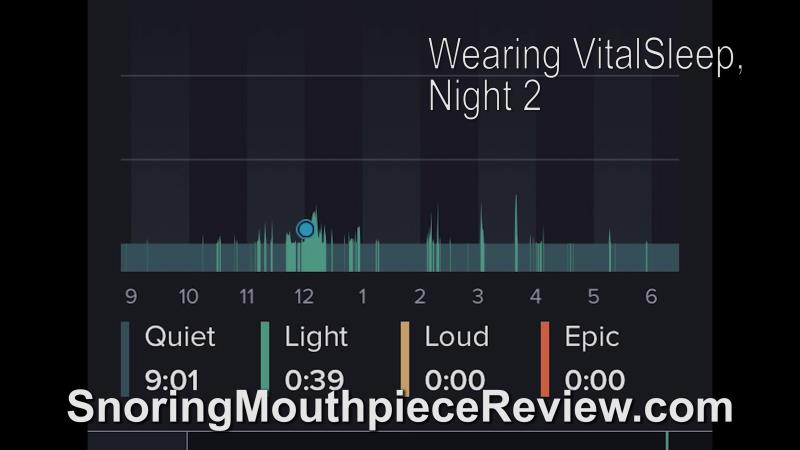 During the nights the patient wore VitalSleep, they also measured their blood oxygen saturation using a pulse oximeter. This was important to monitor to prove that the patient was able to breathe properly at night with the mouthpiece. The red line on the charts indicate the low oxygen point where it would be considered dangerous.
These recordings indicate that the patient was able to get adequate oxygen during the time they wore the VitalSleep mouthpiece at night.
Night 1: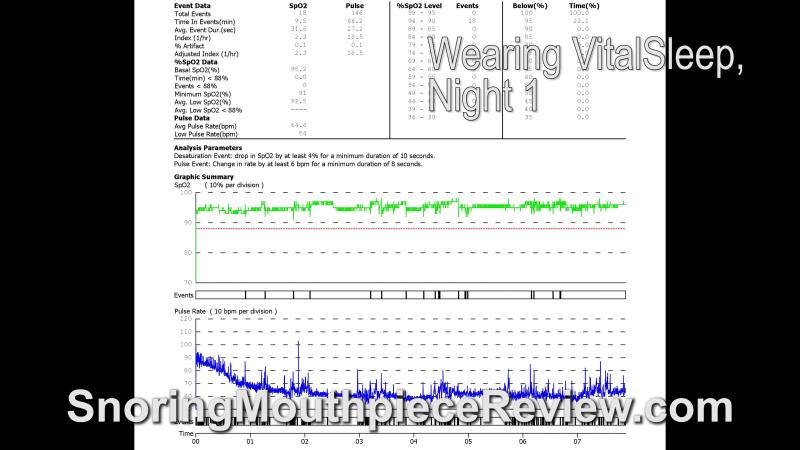 Night 2: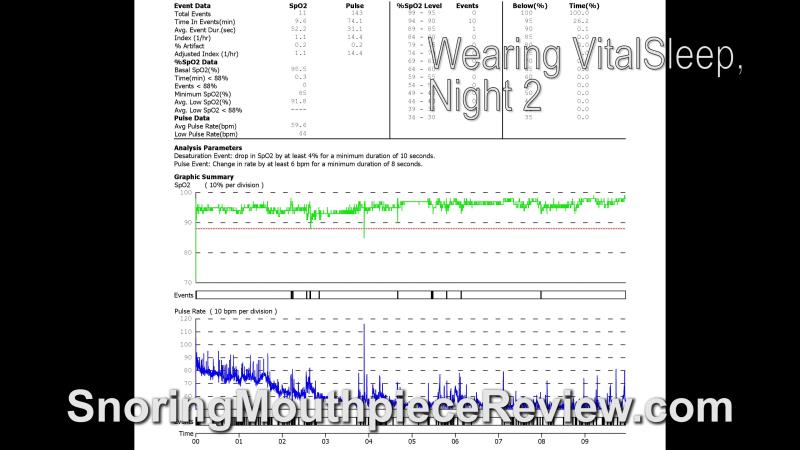 Patient feedback:
After wearing the VitalSleep mouthpiece for two nights, the patient mentioned some slight discomfort near the front of their teeth. They did not mention this to be painful, however.
---
Fitting Process
How do you fit VitalSleep?
Note: You should brush your teeth before fitting VitalSleep
Boil enough water to immerse the mouthpiece and then turn off the heat
Immerse VitalSleep (with the seperator inserted) into hot water for exactly 10 seconds using tongs of a spatula

VitalSleep can easily overheat, do not heat more than 10 seconds

Remove VitalSleep from hot water (make sure it's not too hot for your mouth) and then place it in your mouth with the triangle facing up

Keep the seperator in place while your fit the mouthpiece to keep the top and bottom from bonding together

Bite down on mouthpiece and use your fingers to mold it to your teeth, do this for 15-30 seconds
Once the mouthpiece has been fit to your mouth, put it in cold water for 30 seconds to solidify the impression

Keep the seperator in place while it cools

Use the left and right screws on the mouthpice with the adjustment tool to move the lower-half of the device forward

This helps open your airway to reduce snoring
Do this incrementally each night a small amount until snoring stops
Here you can see the top side of the VitalSleep mouthpiece with its triangle pointing up. When fitting VitalSleep, make sure it is facing up so that you can fit it correctly.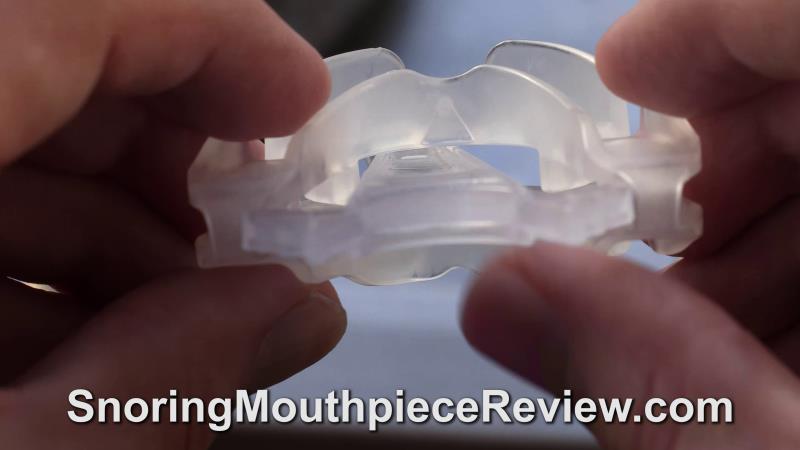 Here you can see VitalSleep, with its fitting insert, being lowered into boiled water using tongs. VitalSleep can easily overheat, it is very important not to heat it more than 10 seconds!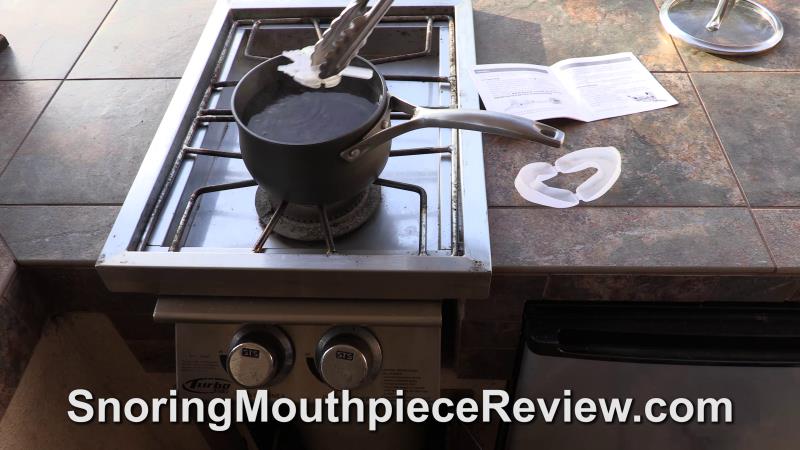 After fitting VitalSleep, there will not be deep impressions of your teeth. The purpose of fitting the mouthpiece is to have it more closely resemble the shape of your mouth so that it stays in place easier while you sleep.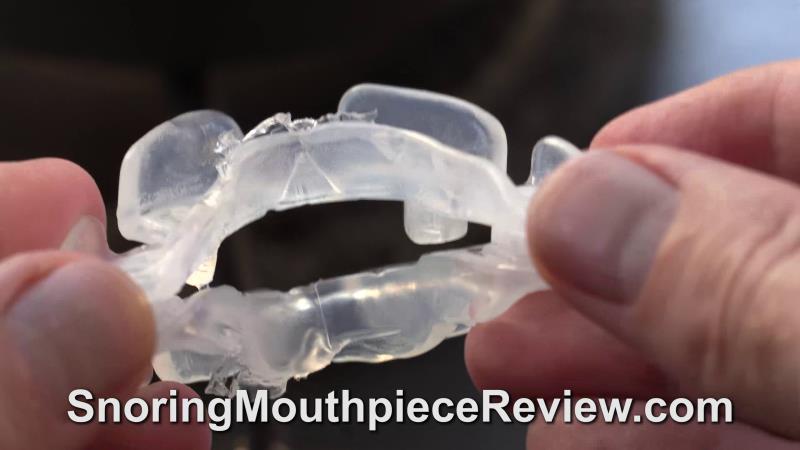 How Do You Adjust VitalSleep?
This image shows VitalSleep and its adjustment tools.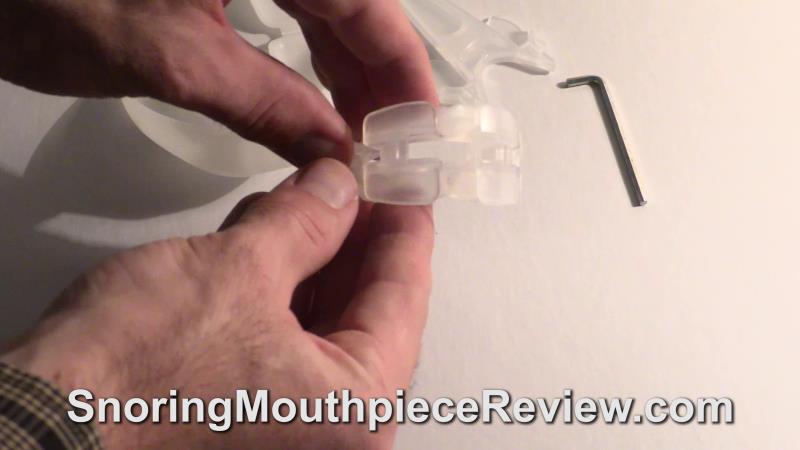 There are spots on both sides of the device which can be adjusted until the lower jaw is in the best position. It may be needed to slowly adjust the device, over a few nights or weeks, to prevent discomfort and get the best results.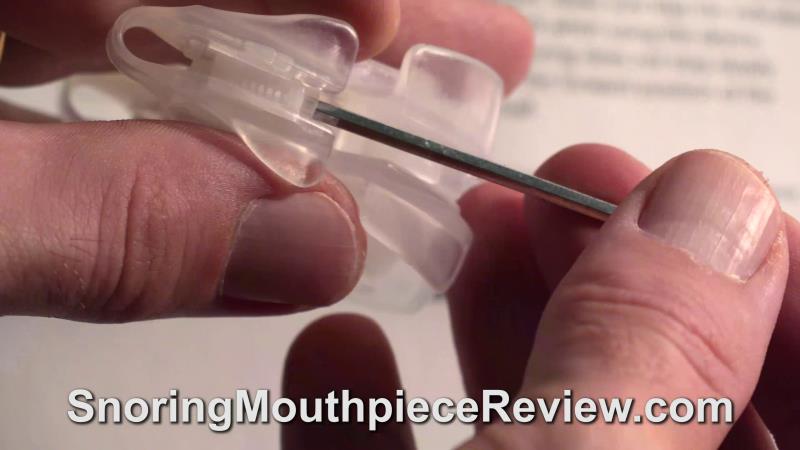 ---
Costs, Shipping Options And Warranty
What is the return policy/ warranty on VitalSleep?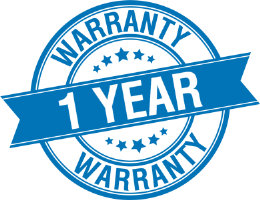 VitalSleep offers you a 60-day money back guarantee with a 1-year warranty. The 60-day period starts when you order.
If you do not fit the mouthpiece correctly, VitalSleep will replace it for you if you are within the time frame they give.
Does VitalSleep accept insurance?
No. VitalSleep does not directly accept insurance. You may be able to find an insurance company that could reimburse your costs, however.
Does VitalSleep ship outside the USA?
Yes, VitalSleep can ship your order internationally and it should take 6-10 days to do so.
VitalSleep's anti-snoring mouthpiece is made in the USA.
What if I grind my teeth, can I wear VitalSleep?
VitalSleep is made to reduce snoring but they report that you can gain some protection from your teeth grinding while wearing their mouthpiece.
How much does VitalSleep cost?
What Forms Of Payment Does VitalSleep Take?

You can order VitalSleep with:
American Express
Visa
Mastercard
Discover
PayPal
Note that VitalSleep authorizes your credit card before shipping your order, the actual charge of your card, the amount you actually need to pay on your bill, is only due after shipment.
How quickly will VitalSleep ship my order?
If your order is placed by 3:00PM Eastern Time, VitalSleep should ship your order the same day.
VitalSleep does not offer next-day or overnight orders.
---
Company Info
Where is VitalSleep located?

United States. VitalSleep (The Snore Reliever Company, LLC) is based out of New York, New York
How long has VitalSleep been in business?
VitalSleep was incorporated in 2009.
Is VitalSleep accredited by the BBB?
No, VitalSleep has not been accredited by the BBB.
VitalSleep Details

Company Name
The Snore Reliever Company, LLC
Business Address
347 5th Avenue, Suite 1402-148, New York, NY 10016
Mouthpiece Type
Mandibular Advancement Device (MAD)
FDA Cleared
Yes
Total Price
$69.95 for 1 or $108.95 for 2
BBB Status
Not accredited
---
Cleaning
How do you maintain and clean VitalSleep?

When not in use, store VitalSleep in the protective case.
You can clean VitalSleep with a toothbrush and toothpaste. You can also clean it with denture cleaner. You should clean VitalSleep every week or if you notice it having stains or odors.
VitalSleep also has an anti-viral mouthpiece cleaner to clean and disinfect the mouthpiece.
---
Summary
Overall review of VitalSleep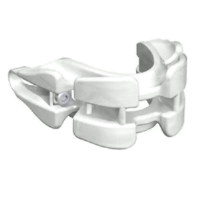 VitalSleep is a snoring mouthpiece which can reduce your snoring. It offers the ability to incrementally adjust the position of your jaw with its tools and has a large airway opening which your tongue can stick out through - these can help reduce snoring.
There is an adjustment period, like all snoring mouthpieces have, which may cause some discomfort. After this, the mouthpiece should feel normal to wear each night.
VitalSleep offers a long warranty of 1 year, with a 60-day money back guarantee. This show their confidence in their product.
The mouthpiece comes in different sizes, for men and women, increasing the likelihood that it will fit you.
VitalSleep is recommended as a way to stop your snoring!
Visit Official Site To Purchase
Where Can I Buy VitalSleep?
Official site: www.vitalsleep.com

---
No Comments
---
---