Last updated: September 26th, 2023
---
When you buy through our links, we may earn a commission. Products or services may be offered by an affiliated entity. Learn more.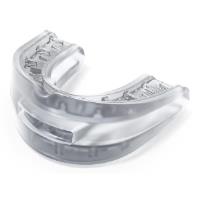 SleepTight Mouthpiece: An Easy Snoring Solution?
SleepTight Mouthpiece is an anti-snoring device which you can use to prevent snoring while you sleeping. It's a Mandibular Advancement Device (MAD) that works by moving the lower jaw forward. The mouthpiece opens the airway, which eliminates the vibration which causes snoring.
NOTE: SleepTight has upgraded their product to a different, better version than the one reviewed here, this product is no longer for sale
Official site: www.sleeptightmouthpiece.com
What is a snoring mouthpiece?
Snoring mouthpieces, also referred to as "snore guards", "snoring mouth guards", "anti-snoring mouthpieces" and other similar names, are devices which advance your lower jaw to stop snoring. There are generally two kinds of snoring mouthpieces, ones that rest on your teeth, and ones that pull your tongue forward. SleepTight Mouthpiece rests on your teeth, advancing your lower jaw by pulling it forward, opening your airway.
Review Contents
---
Ratings/ Pros and Cons
SleepTight Mouthpiece Ratings
Pros And Cons Of SleepTight Mouthpiece
Pros
Has a large airway opening (6mm) that allows for increased airflow at night
Was designed by a dentist who understands the challenges of snorers
FDA cleared for both snoring and (mild to moderate) sleep apnea
No adjustment tools
You can try it for 30-days for only $9.95 to see if it works
Cons
The device cannot be adjusted incrementally and relies instead, on fitting it correctly using your fingers, holding your lower jaw forward and pressing the material firmly against your teeth
The airway can collapse, or be less open than it should be, if the fitting handle isn't kept in place properly during fitting
May be too big/ bulky for some people
---
How It Works
How does the SleepTight Mouthpiece work?
Snoring is mostly a result of vibration in your airway. The vibration occurs during sleep because the muscles relax.
The SleepTight Mouthpiece works by keeping your airway open during sleep.
First, you make an impression of your teeth while your lower jaw is extended. Once the impression is set, you wear the mouthpiece during sleep.
The SleepTight Mouthpiece keeps your mouth in a position that keeps air flowing without obstruction thus eliminating snoring.
---
Video Review
Video Review Of SleepTight Mouthpiece
This is a video review for Snoring Mouthpiece Review:
What you'll see in the video review:
How SleepTight works
What's in the box
How to fit SleepTight
Actual patient results (snoring and oxygen charts)
How to clean the mouthpiece
---
What's Included
What's included in the SleepTight Mouthpiece box?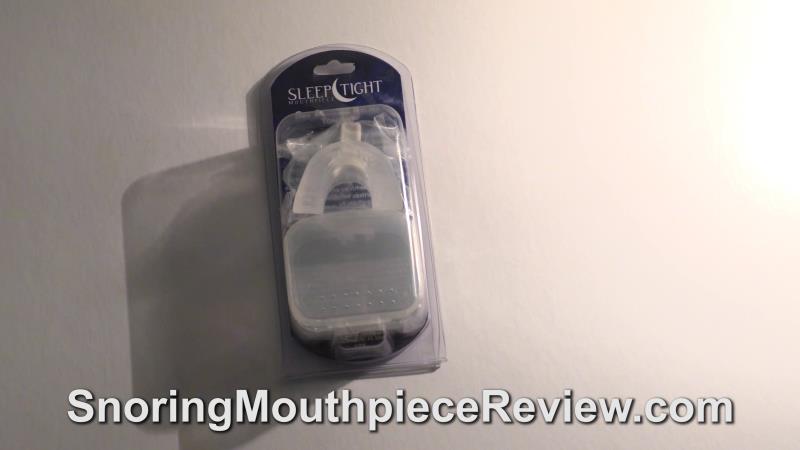 SleepTight Mouthpiece orders include:
One (1) SleepTight Mouthpiece
One (1) mouthpiece storage case
One (1) airway fitting plug
Directions on how to use and fit the device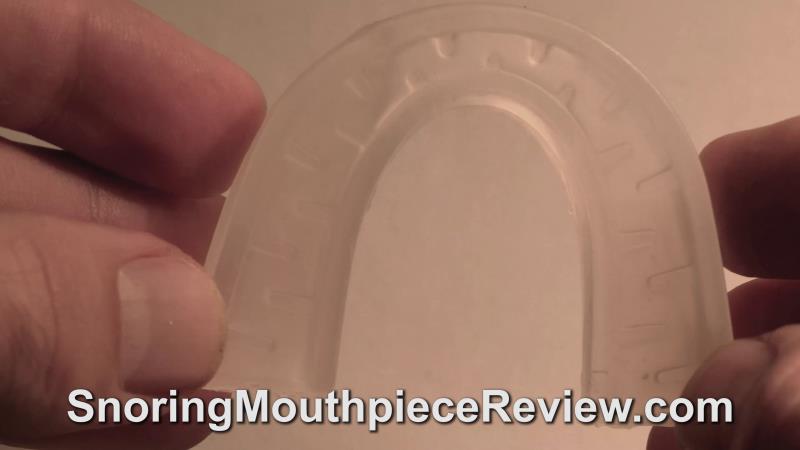 This is the SleepTight Mouthpiece up close. You can see the ridges in the mouthpiece above. These ridges enable a better fit of the device at night, making it less likely to fall out.
---
Precautions/ Health Info
Is SleepTight Mouthpiece FDA Cleared?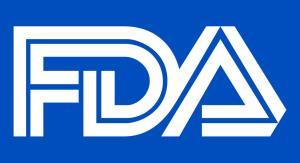 Yes, the SleepTight Mouthpiece has been cleared by the FDA (U.S. Food and Drug Administration) for both snoring and sleep apnea with a 510(k). FDA clearance requires rigorous testing and detailed documentation.
Can SleepTight Mouthpiece be used if I have dentures?
Yes, if the patient has partial dentures and some front teeth on both the upper and lower jaws.
No, if the patient has full dentures. Consider using a Tongue Stabilizing Device in this case.
Will my teeth become loose or sore?
In the first two weeks, you may experience some soreness caused by the pressure applied by to the teeth by the mouthpiece.
Will the mouthpiece cause gagging?
Rarely, you should wear SleepTight for a few minutes at a time if you experience gagging so that your body adjusts.
Why do I have extra saliva?
You may experience some extra saliva as the body initially interprets the mouthpiece as a type of food, which requires saliva. This should go away after a few days.
---
Product Details
Can SleepTight Mouthpiece stop my snoring?
Yes, for those with simple snoring or mild to moderate sleep apnea, SleepTight can stop your snoring if it is fit correctly.
How much lower jaw advancement does SleepTight Mouthpiece provide?
The amount of jaw advancement you get from SleepTight will depend on how far forward you position your jaw during fitting. The end result will be somewhere between 0-6 mm. You should try to advance you jaw to the fullest amount to get the best result.
How big is the SleepTight Mouthpiece airway?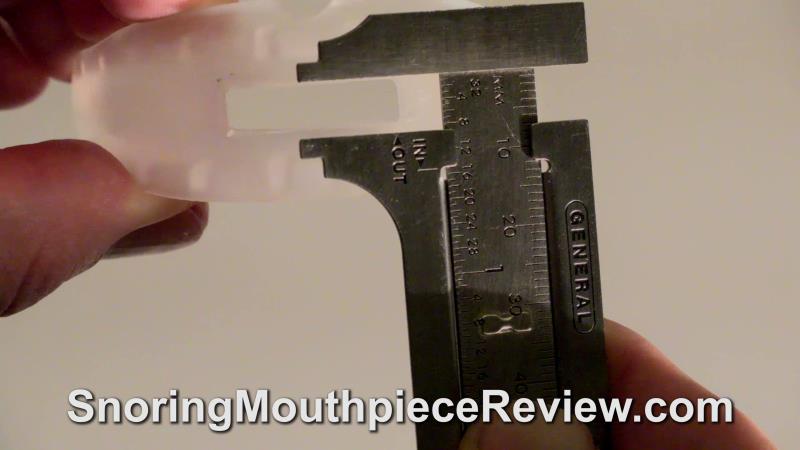 The airway opening for SleepTight Mouthpiece is open 6 millimeters. This opening is wide enough for the tip of the tongue to go through it and that can improve breathing. SleepTight Mouthpiece has a wide airway opening, unlike many other device.
You need to make sure, when fitting SleepTight, that the airway handle stays fully inserted so that the airway remains open during fitting.
How long will the SleepTight Mouthpiece last?
If taken care of properly, the SleepTight Mouthpiece should last 6 months to 2 years. The variance in time will depend on how well it is taken care of, how often it is worn and if the person wearing it grinds their teeth at night or not.
What is SleepTight Mouthpiece made of?
The SleepTight is composed entirely of EVA, a material approved by the FDA for its use as a snoring and sleep apnea mouthpiece. The SleepTight does not contain any latex or BPA.
What is the length and width of SleepTight Mouthpiece?
SleepTight is 61mm wide and 47mm in length.
---
Patient Results
A patient wore SleepTight Mouthpiece for 3 nights. Before wearing the device, the patient recorded snoring. While wearing the device, the patient snored signifantly less.
The patient mentioned that they had to re-fit the mouthpiece after sleeping with it and noticing some snoring. When re-fitting it, they advanced their their jaw as much as they comfortably could forward and this gave the best results.
Without mouthpiece: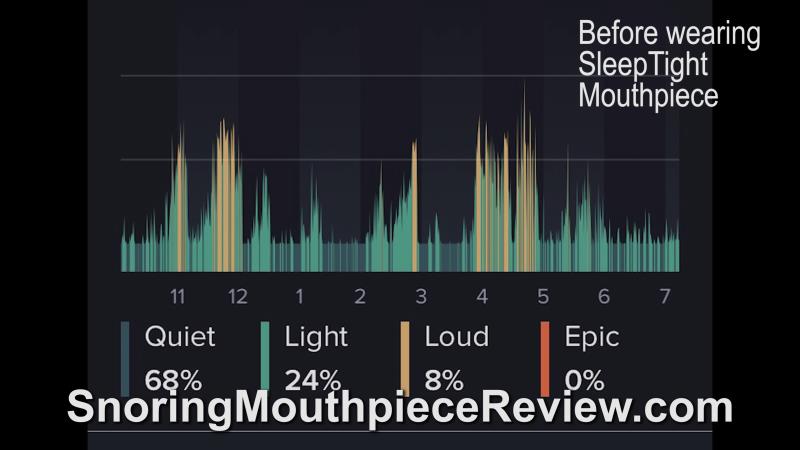 Night 1 with mouthpiece: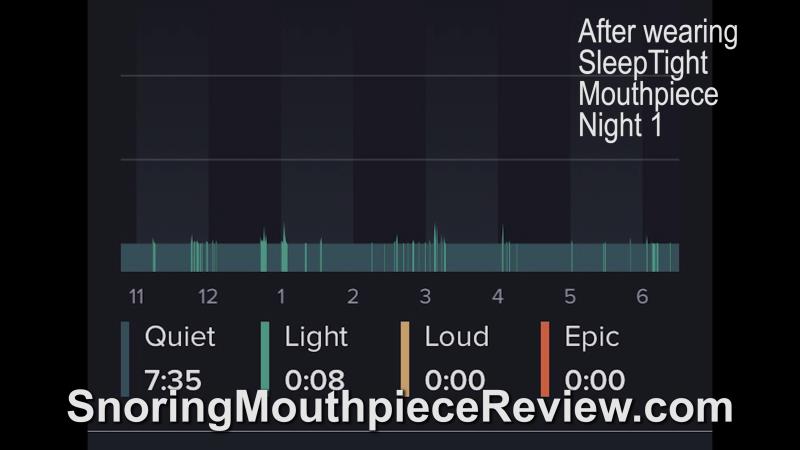 Night 2 with mouthpiece: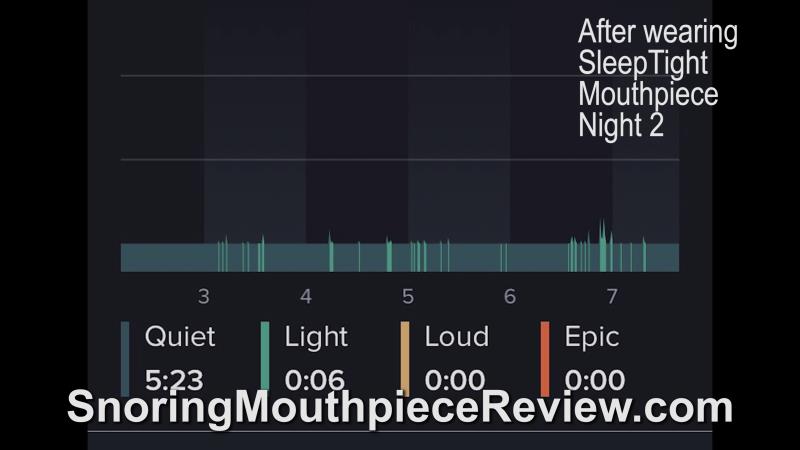 Night 3 with mouthpiece: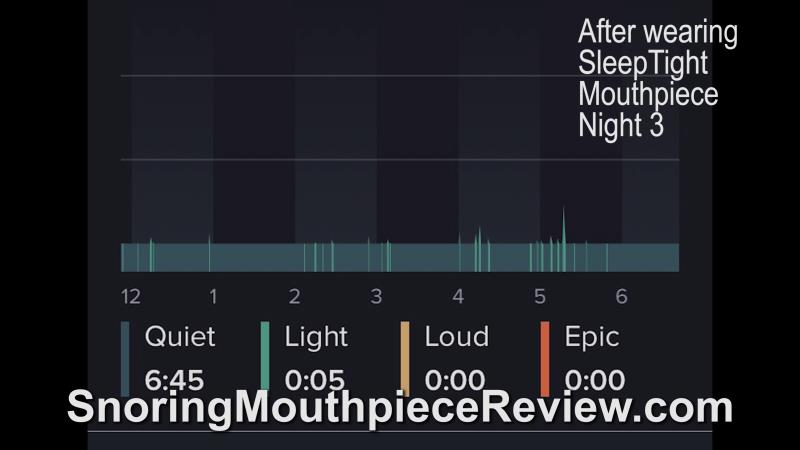 The patient wore a pulse oximeter while wearing SleepTight Mouthpiece and was able to breathe properly, with oxygen levels about the red line.
The graphs show how much oxygen was in the patient's blood and also their heart rate. The green line is the oxygen chart and the blue line is the pulse rate.
Night 1 oxygen: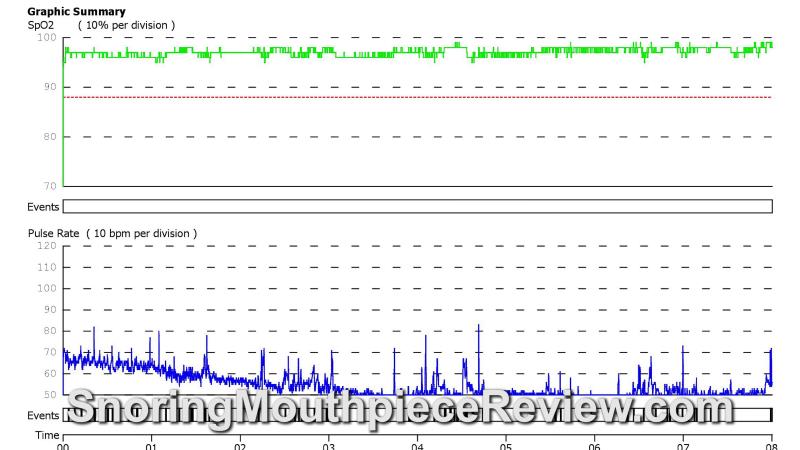 Night 2 oxygen: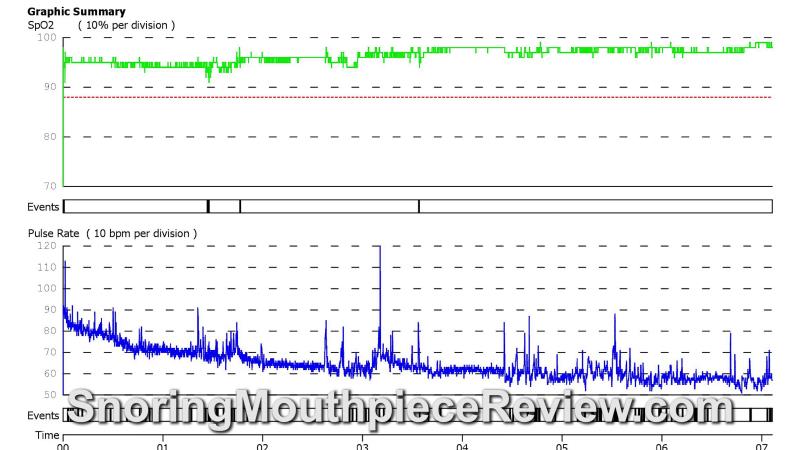 Night 3 oxygen: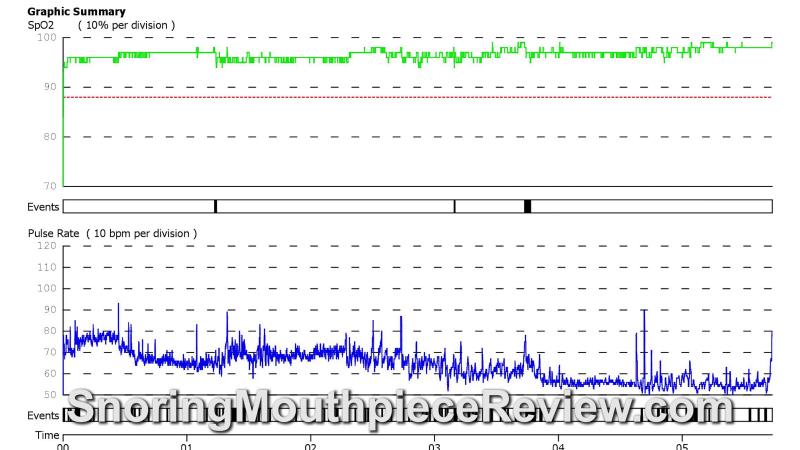 ---
Fitting Process
Step-By-Step Fitting Instructions for SleepTight Mouthpiece
Note: you should brush your teeth before fitting SleepTight Mouthpiece.
Required:
Stove (do not use microwave)
Water (2 cups)
Teapot or saucepan to boil water
2 glass or ceramic cups (1 for the hot water to be poured into and 1 to cool the mouthpiece)
The SleepTight Mouthpiece and its fitting plug
A timer
Spoon or tongs (to keep the mouthpiece underwater and remove it from the water)
Instructions:
Boil water and pour into a cup. Let the water sit for 1 minute. If the water is too hot then the SleepTight may become rough. Do not boil water in a microwave!
Fully insert the fitting handle. Keep the mouthpiece under water for 3 minutes using a spoon or tongs. This makes the mouthpiece soft enough for an impressiion of your teeth.
Remove the SleepTight from the hot water and shake off excess water. Make sure it is not too hot to put in your mouth.
If the edges of the SleepTight have folded over, straighten them back up into the original horseshoe shape.
Make sure the SleepTight is right-side up. There should be a "V" shape notch on the top. Re-check the fitting handle to make sure it's secure before fitting.

Maintaining the fitting handle in its correct position, fully inserted, is critical to keeping the airway opening and preventing it from collapsing during fitting.

Place the SleepTight onto the lower teeth first, work in front of a mirror to center the device.
Bite down hard into the mouthpiece and move your lower jaw far forward to align the edge of the lower teeth with the edge of the upper teeth, or slightly forward. You will see the fitting handle rise up. The fitting handle will prevent the back teeth from touching and will maintain the front breathing opening.

Advancing the lower jaw, ideally with your hands, is critical to successfully fitting the mouthpiece.

While holding the jaw forward, firmly press the mouthpiece against all of your teeth using your fingers and tongue while the material is soft for 30 seconds. Suck in and push the tongue against the sides of the soft material.
Take the SleepTight out and place it into cool water for 1 minute. You can use ice cold water to make a shrink fit, only do this if you are satisfied with the impression.
NOTE: If the mouthpiece is not fit correctly, without a firm impression, you will need to go through the steps again. You can re-fit the mouthpiece a couple of times if you didn't bite down hard enough to make a good impression. After this, the material will become too soft to fit tighly.
Boiling water: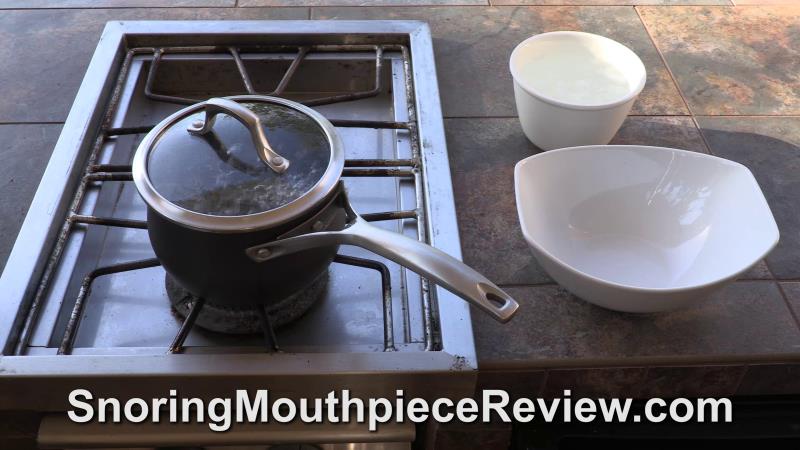 Placing mouthpiece in hot water: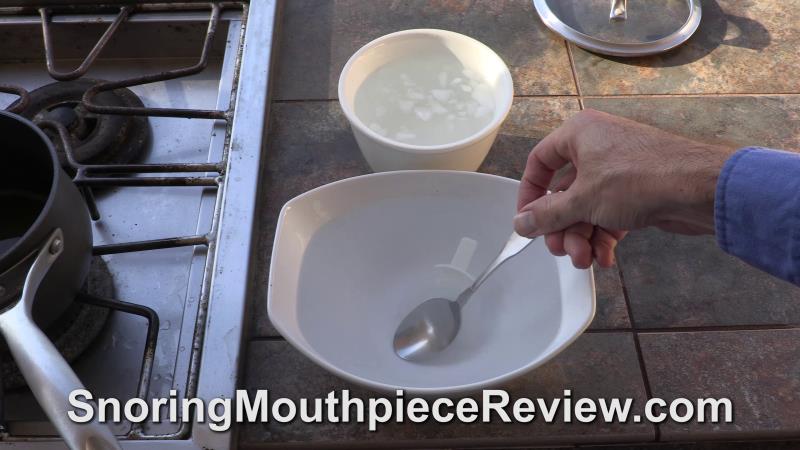 Heated mouthpiece: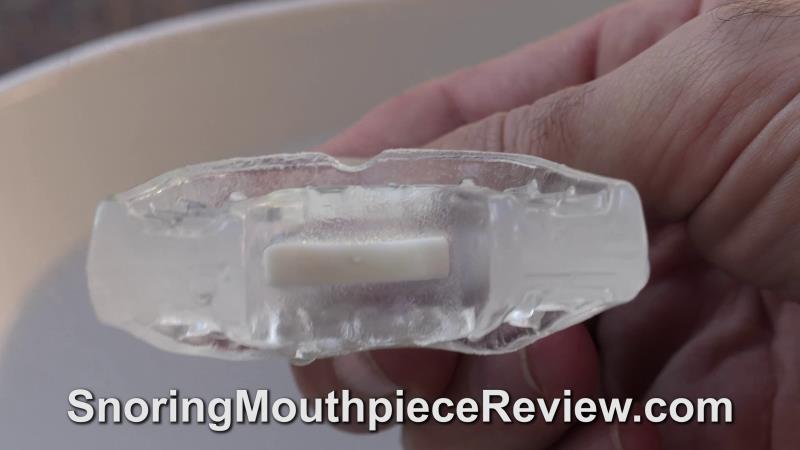 Impressions of teeth after fitting: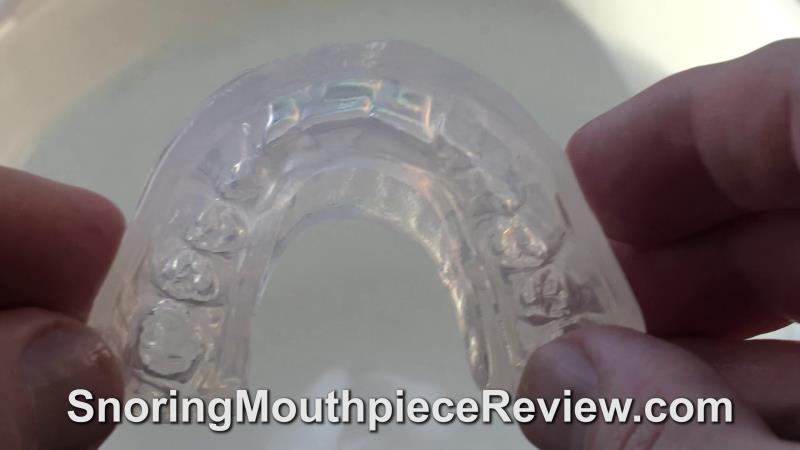 ---
Costs, Shipping Options And Warranty
What does SleepTight Mouthpiece cost?
A single SleepTight Mouthpiece costs $79.90 if you keep it past 30 days. The price is divided into 2 seperate charges. The first is $9.95 for a 30-day trial and the second is $69.95 after the trial. Buy single pack here
What is the SleepTight Mouthpiece billing model?
You get a 30-day trial for $9.95. The full amount of $69.95 is authorized (but not captured) to ensure you can pay.
You are responsible for paying $9.95 in the first 30 days. They do this to prevent fraud.
If you look at your credit card statement, you will see $79.90 but, that is just a temporary authorization used for fraud prevention. After the product ships, a few days later, it shows as $9.95. This is the only amount that should appear on your actual monthly statement.
What is the warranty/ return policy for SleepTight Mouthpiece?
You have 30-days from the ship date of your purchase date to verify your satisfaction with your SleepTight Mouthpiece.
If you have tried to refit it and are still not seeing success, you can request an RMA number and then return your product. The process is simple and automated. You are responsible for the return shipping costs, however.
Can you buy SleepTight Mouthpiece on Amazon or at Walmart, Walgreens or CVS?
No, SleepTight Mouthpiece is a medical device and can only be bought on their company website or through authorized dealers. SleepTight Mouthpiece requires you to fill out a quick questionnaire to learn about your snoring, this is required by the FDA.
Until forms exist on Amazon or Walmart to allow the questionnaire, they will probably not be selling it there. Either way, to ensure high quality customer service, you should order direct.
You can buy SleepTight Mouthpiece: here.
What payment options are there for SleepTight Mouthpiece?
Visa
Mastercard
American Express
Discover
Where can SleepTight Mouthpiece be shipped?
How quickly does SleepTight Mouthpiece ship out?
Orders are sent within 72-hours from the time they are placed, excluding holidays and weekends.
---
Company Info
Where is SleepTight Mouthpiece located?
United States. SleepTight Mouthpiece is based out of Fort Lauderdale, Florida.
Who created SleepTight Mouthpiece?
Michael D. Williams, D.D.S, created SleepTight Mouthpiece in 2014. Dr. Williams, a dentist, created the mouthpiece after multiple ineffective painful surgeries to cure his snoring.
Dr. Williams is a member of the American Academy of Sleep Dentistry.
SleepTight Mouthpiece Details

Company Name
Sleep Tight
Business Address

101 Sherlake Lane, Suite 106, Knoxville, TN 37922

Mouthpiece Type
Mandibular Advancement Device (MAD)
FDA Cleared
Yes
Total Price
1 = $79.90; 2 = $87.90
---
Cleaning
How do you clean and maintain sleepTight mouthpiece?

You can clean SleepTight Mouthpiece using a very soft tooth brush with liquid soap. Tooth pastes are abrasive and can damage the mouthpiece over time, making it more likely to stain.
You can soak the mouthpiece in denture cleaner to help remove stains and keep it fresh.
The device should be stored in a dry container when not in use. You can store the mouthpiece in the container it comes with after drying it.
Cleaning mouthpiece: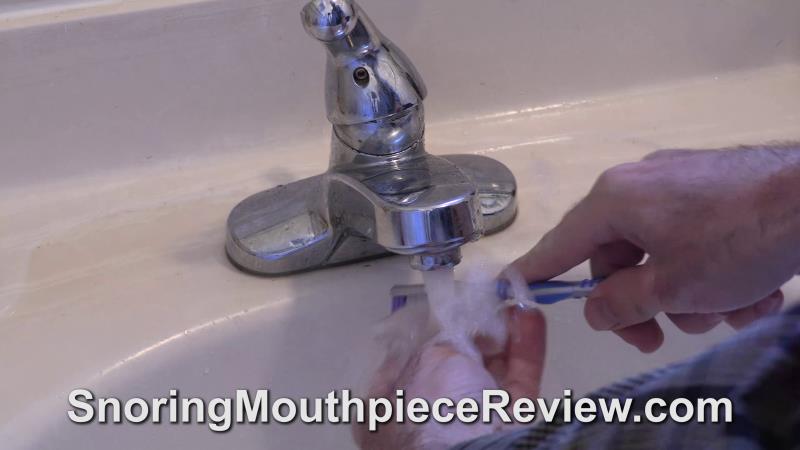 ---
Summary
Overall Review of SleepTight Mouthpiece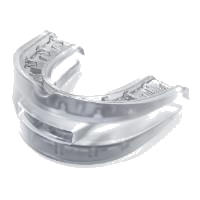 Site: www.sleeptightmouthpiece.com
The SleepTight Mouthpiece can stop your snoring. The most important part of making this happen is fitting it correctly.
To fit SleepTight correctly, you need to make sure to hold your lower jaw forward with your hands while biting down hard, press the material around your teeth to make a tight impression. The material needs to be pressed firmly against your teeth by using your fingers.
It is possible to re-fit the mouthpiece but it cannot be adjusted incrementally.
The mouthpiece is FDA cleared, not only for snoring, but also for mild sleep apnea.
SleepTight Mouthpiece is worth trying!
Visit Official Site
or
buy through Doc Brands
---
Comments
Jerome Ngugi November 14th, 2020


Good read. This has really enlightened me on the sleeptight mouthpiece and how it works. It is great to know that there are helpful options out here that can naturally help us work through snoring. Thanks for this.

Kathy Usiak July 16th, 2021


I am thrilled with the SleepTight Mouthpiece!! I have tried a CPAP machine and cannot stand to use it. The SleepTight Mouthpiece has eliminated my snoring about 99% of the night. It is very comfortable to wear and I do not have any side effects such as jaw or teeth discomfort. This is an amazing product and I am extremely satisfied!!
---
---