Last updated: January 4th, 2018
---
What Is Zyppah?
Zyppah is a snoring mouthpiece which uses an elastic band to stabilize the tongue while also advancing the lower jaw forward to stop snoring. The word: "Zyppah" means "Happy Z" backwards, a reference to snoring. Zyppah is a type of Mandibular Advancement Device (MAD) as well as a Tongue Stabilizing Devices (TSD).
How Does Zyppah Work?
The Zyppah works by keeping your tongue stabilized while also advancing the lower jaw forward. It requires a custom fitting using the boil and bite process to make an impression of your teeth.
Zyppah works by keeping both your jaw and tongue in place, preventing snoring vibration caused by an obstructed airway. The band keeps your tongue from falling over your airway while the mouthpiece impression keeps your jaw forward.
What's In The Zyppah Box?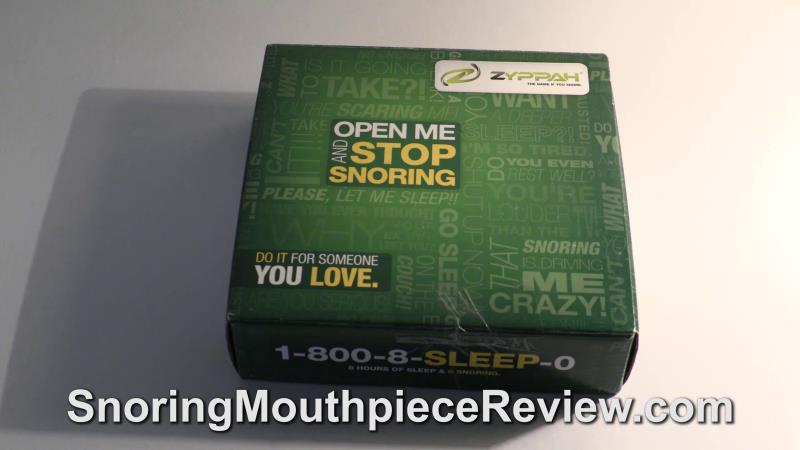 Zyppah includes:
One (1) Zyppah snoring mouthpiece
One (1) storage case
Fitting directions/ instructions
How Much Does Zyppah Cost?
Zyppah costs $99.95.
Who IS Zyppah For?
Zyppah is designed for people over 18 years of age who snore.
If you have only one or two missing teeth, the Zyppah should work for you. If you have implants, it is usually recommended to wait at least a year until you try Zyppah.
Who Should Not Use Zyppah?
Zyppah recommends not using their device if:
You have serious breathing or respiratory disorder, such as chronic asthma, emphysema, COPD or similar
You have poor dental health, such as severe gum disease, loose teeth, an abscess, mouth sores or bleeding gums
You've had a dental implant in the last 3 months
You experience mouth or jaw pain from teeth grinding or physical injury
You have full dentures
You wear braces, sleep using CPAP or another dental appliance
You are under 18 years of age
You have been diagnosed with sleep apnea
How Does Zyppah Stabilize The Tongue?
Zyppah uses an elastic band in the back of the device to help stabilize the tongue and prevent it from falling back over the airway.
Where Is Zyppah Located?
United States. Zyppah is registered in Las Vegas, Nevada.
Who Created Zyppah?
Zyppah was invented by Dr. Jonathan Greenburg, a bioengineer with a doctorate in dentistry. Dr. Greenburg graduated from New York University Dental School in 1981.
Who Is Zyppah Creator Dr. Greenburg?
Dr. Jonathan Greenburg is a bioengineer with a doctorate in dentistry. Dr. Greenburg worked as a cosmetic dentist before observing that many people suffer from Obstructive Sleep Apnea (OSA).
Dr. Greenburg has focused on treating OSA through using customized dental appliances. Dr. Greenburg has five offices treating snoring, they are in: the Los Angeles area, Orange County, San Fernando Valley, Valencia, and Pasadena.
Dr. Greenburg holds a patent for his hybrid invention using both mandibular advancement and tongue stabilization in one device.
How Long Has Zyppah Been In Business?
Zyppah was incorporated in March, 2012.
Is Zyppah BBB Accredited?
Yes, Zyppah has been BBB accredited since 2013. They have some complaints on their BBB listing.
Is Zyppah FDA Cleared?
Yes, Zyppah has been FDA cleared as an anti-snoring device for people 18 years and older who intend to reduce their incidence of snoring and/or mild to moderate obstructive sleep apnea.
How Do You Fit Zyppah/ What Is The Fitting Process?
Required:
Zyppah device
Stove (do not use microwave)
Stovepot/ teapot
2 quarts of water (to boil)
Fork, spoon or tongs (to keep device under water and remove it)
Cooking mittens or a pad for handling the hot water
Timer
Instructions:
Boil 2 quarts of water
Remove the boiling water from the heat source (caution: hot water)
Immerse the Zyppah into hot water for 45 seconds while keeping it underwater using a utensil
Remove from hot water with utensil by using the tongue strap
Put device on your lower teeth with your fingers and then bite down firmly for 1 minute, make sure you have made a deep impression of your teeth in the device
Rinse off Zyppah under cool water for 30 seconds
NOTE: If you did not make a firm impression of your teeth then you can re-fit the device up to 3 times.
How Wide Is The Zyppah Airway Opening?
Zyppah has an airway opening of 3 millimeters. This is smaller than some other devices. The wider the airway opening, the more likely the tongue can fit through it to improve breathing at night.
How Do You Clean and Take Care of Zyppah?

You clean Zyppah with a toothbrush and toothpaste or soak it in water with effervescent oral device cleaning tablets. After cleaning the device, dry with a clean cloth.
Do not use hard chemicals like bleach or ammonia. Store the device in a cool place.
You should clean the device after using it periodically, probably once a week if you wear it every night.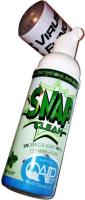 There is a special Zyppah cleaner called: SNAP which you can buy on their site for $19.95 without further obligation to pay for it. SNAP offers: anti-bacteria, anti-fungus and anti-virus protection.
What Is The Warranty/ Return Policy For Zyppah?
If you are unsatisfied with Zyppah within 90-days of purchase, you can either return the device for a refund of the product price (you pay for shipping) or request a one-time replacement.
You need to get a Return Merchandise Authorization (RMA) number to return it. To get your RMA number, contact Zyppah at: 1-800-875-3370.
How Long Does Zyppah Last?
Zyppah should last for months of daily use if it is cared for properly.
What Are the Pros and Cons of Zyppah?
Pros:
Combines two anti-snoring techniques, jaw advancement and tongue stabilization
Was designed by a dentist who has multiple offices focused on sleep breathing disorders
Cons:
Cost is slightly higher than competitors
The jaw position cannot be adjusted
The airway opening is smaller than some other devices
Overall Review Of Zyppah
The Zyppah is a unique device that both holds the lower jaw forward and prevents the tongue from falling back by using a band. It may be an effective over-the-counter solution for you if you do not have dentures or many missing teeth.
Where Can I Buy Zyppah?
---