Last updated: February 6th, 2019
---
We participate in affiliate programs, where we are compensated for items purchased through links from our site (at no cost to the buyer). See our disclosure page for our list of comped products and affiliate programs.
---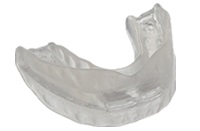 SnoreMeds: A Low Cost Snoring Mouthpiece
What is SnoreMeds?
SnoreMeds is a single piece snoring mouthpiece which is designed to reduce snoring while you sleep at night by advancing your jaw. SnoreMeds is a Mandibular Advancement Device (MAD) which means it's a mouthpiece that works by moving the lower jaw forward, using the teeth, preventing the vibration that causes snoring.
Review Contents
---
Ratings/ Pros and Cons
SnoreMeds ratings
Pros and cons of SnoreMeds
Cons
Not FDA cleared for snoring
Airway opening collapses after heating, making nose breathing the only option to breathe at night
Does not provide much jaw advancement to open airway
Material is not tight enough to keep mouthpiece in place unless an excellent fit is made
---
How It Works
How does SnoreMeds work?
Snoring is caused by a narrowing of the airway. SnoreMeds advances your low jaw, keeping it from restricting your airway. This reduces snoring.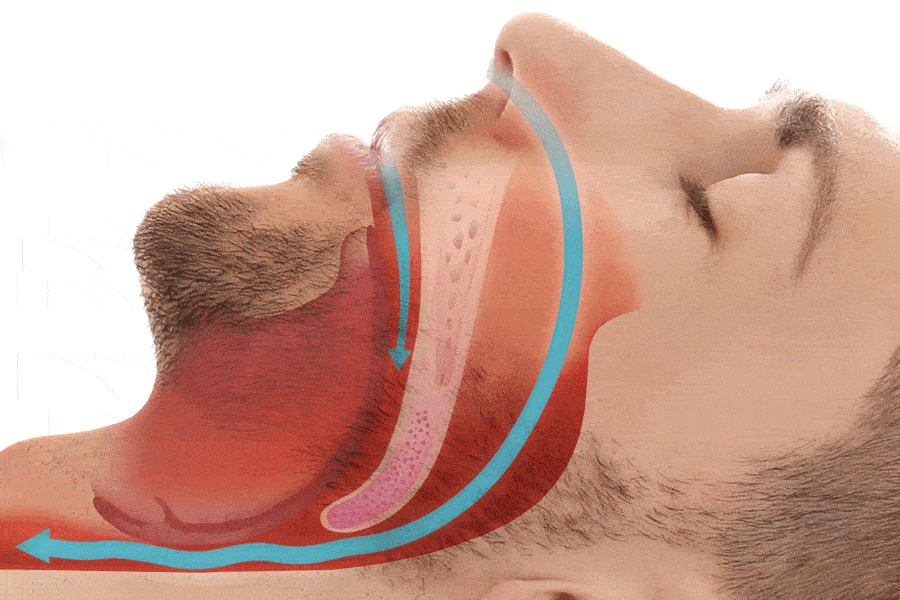 Are there different forms of snoring?
Yes, people snore for different reasons. The jaw drops open at night, or small or collapsing nostrils can prevent you from successfully breathing through your nose. The air hitting the back of the throat causes it to dry, causing the snoring vibrations. A stop snoring mouthpiece helps 85% of people who snore but if you have a nose based problem, nasal strips or cones may be the answer.
---
Video Review
Video Review Of SnoreMeds
This is a video review of SnoreMeds for Snoring Mouthpiece Review:
What you'll see in the video review:
What's in the box
How to fit SnoreMeds
Actual patient results (snoring and oxygen charts)
How to clean the mouthpiece
---
What's Included
What's in the SnoreMeds box?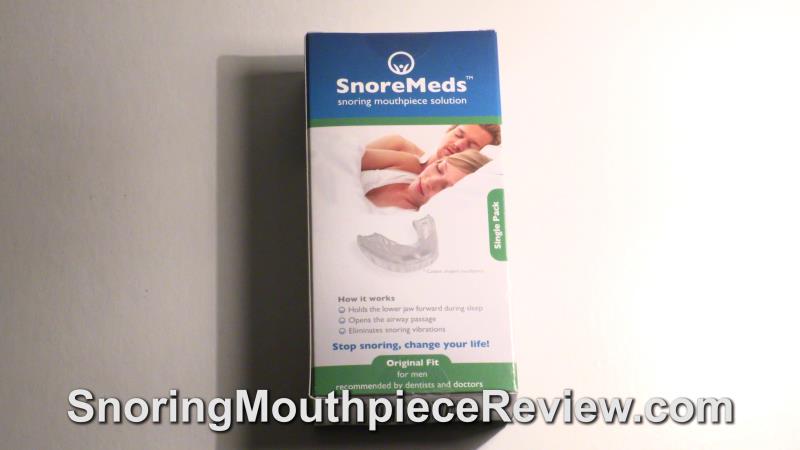 SnoreMeds includes:
One (1) SnoreMeds snoring mouthpiece
One (1) fitting spatula
One (1) storage case
Fitting instructions
Instructions and case which are included with SnoreMeds: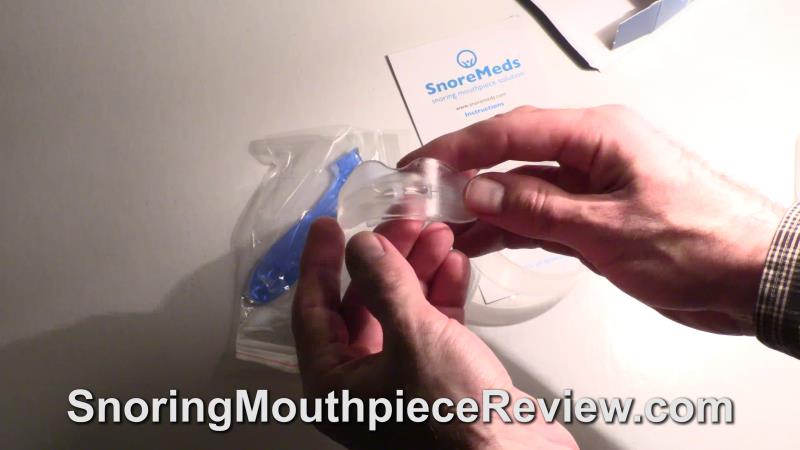 The instruction booklet which comes with SnoreMeds: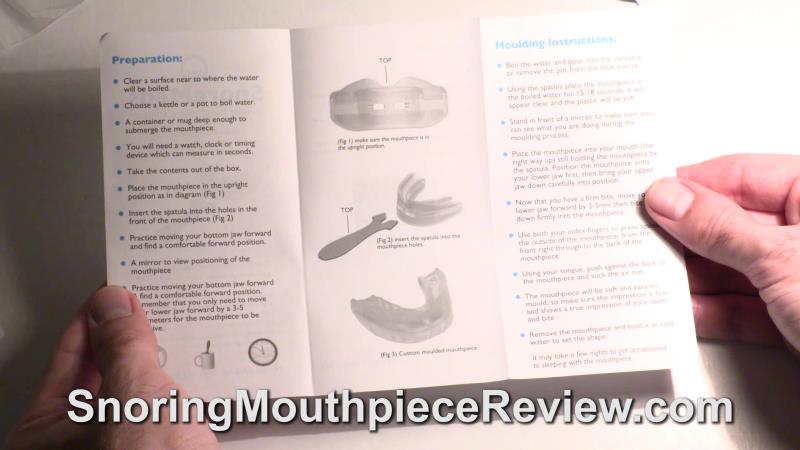 ---
Precautions/ Health Info
Can I wear SnoreMeds be used while wearing dentures?
No, SnoreMeds does not recommend using their mouthpiece with dentures. It is also suggested that you have healthy gums and teeth to use the snoring mouthpiece.
Can children use SnoreMeds?
No, SnoreMeds should not be used by children because their teeth are still in the development stage.
What side effects can occur while using SnoreMeds?
There are minor and temporary side effects which may occur while wearing SnoreMeds. These include increased salivation and morning tooth or jaw discomfort.
Is SnoreMeds cleared by the FDA?
No, SnoreMeds has not been cleared by the FDA for the treatment of snoring.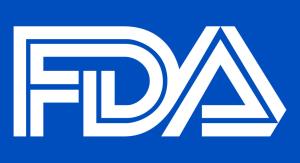 ---
Product Details
How long will SnoreMeds last?
There is no official information regarding the durability of the mouthpiece but it may last up to 1 year.
It is highly recommended that the mouthpiece is changed every 3-4 months for hygiene and to ensure the safety of your teeth and gums.
Are there different versions of SnoreMeds?
Yes, there are two versions, one for men and one for women. The women version is slightly smaller than the regular version.
How long does it take to get used to wearing the mouthpiece?
It can take up to two weeks for the mouthpiece to feel comfortable wearing at night. During this time, the mouthpiece may fall out sometimes.
Can SnoreMeds stop your snoring?
There is an 85% chance that the mouthpiece will work for you. If you still snore after the first night, remold the mouthpiece and hold your bottom jaw forward.
How much lower jaw advancement does SnoreMeds provide?
Using SnoreMeds, you can advance your jaw from 0 to 5 millimeters. The amount of adjustment depends on how the fitting process goes.
Does SnoreMeds contain BPA or latex?
No. SnoreMeds is BPA and latex free. It's made of a hypoallergic thermoplastic which is approved for dental use.
What's SnoreMeds look like?
This is the front of the SnoreMeds mouthpiece: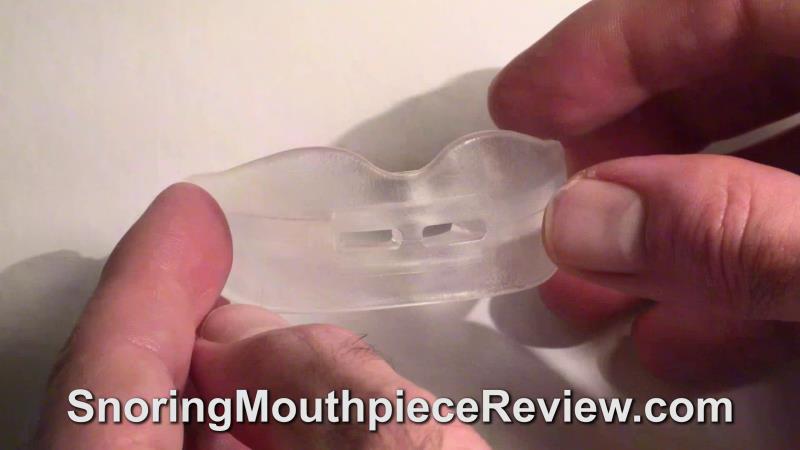 Are there male and female versions of SnoreMeds?
Yes. There are two sizes, one is smaller and is for women while the regular size is for men.
How do I know if SnoreMeds works for while I am asleep?
If you don't have a sleep partner or someone in the room with you, you should use a snoring app to detect your snoring. We have reviewed the top snoring apps here.
How wide is the SnoreMeds airway?
SnoreMeds has an airway opening of 2 millimeters. This is less than some other mouthpieces. The problem with SnoreMeds is that the airway opening is likely to collapse during fitting, making it not possible to breathe through.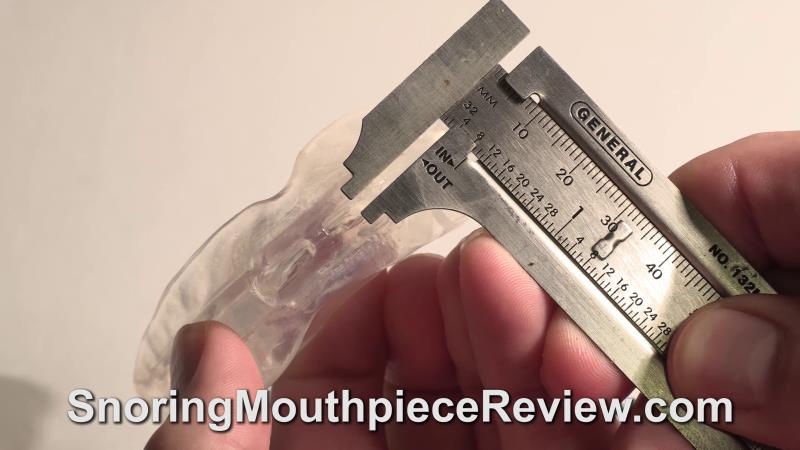 How does SnoreMeds compare to other mouthpieces?
SnoreMeds is a boil and bite mouthpiece which relies on advancement of the jaw through its fitting process, not adjustment settings. This makes SnoreMeds similar to SleepTight Mouthpiece.
---
Patient Results
Actual Patient Results Wearing SnoreMeds
A patient who snored wore SnoreMeds for four consecutive nights. The results, captured using a snoring app.
The snoring actually increased the first night while wearing SnoreMeds. After refitting the mouthpiece to advance the jaw further forward, the following three nights showed a reduction in snoring volume and duration each night.
Without SnoreMeds: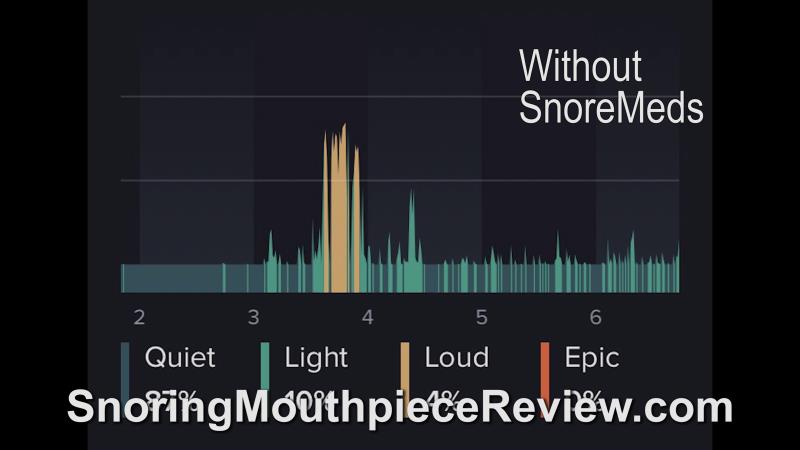 With SnoreMeds:
Night 1: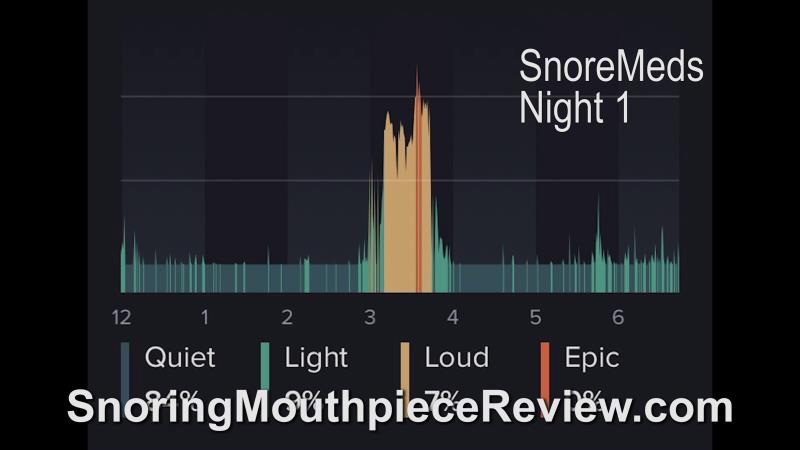 Night 2: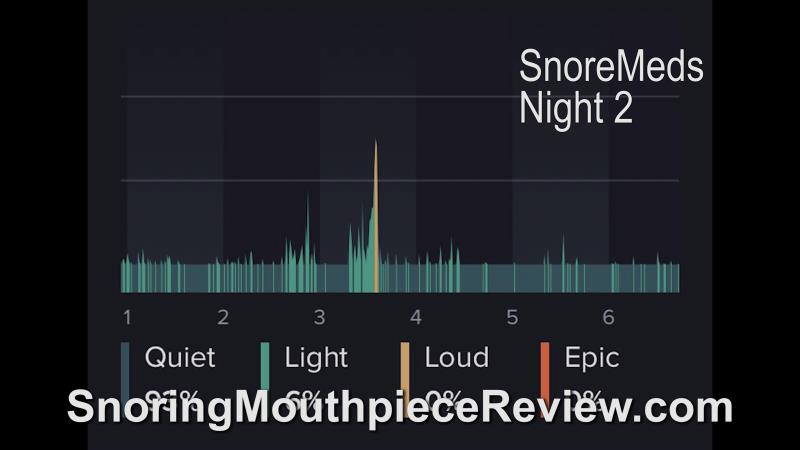 Night 3: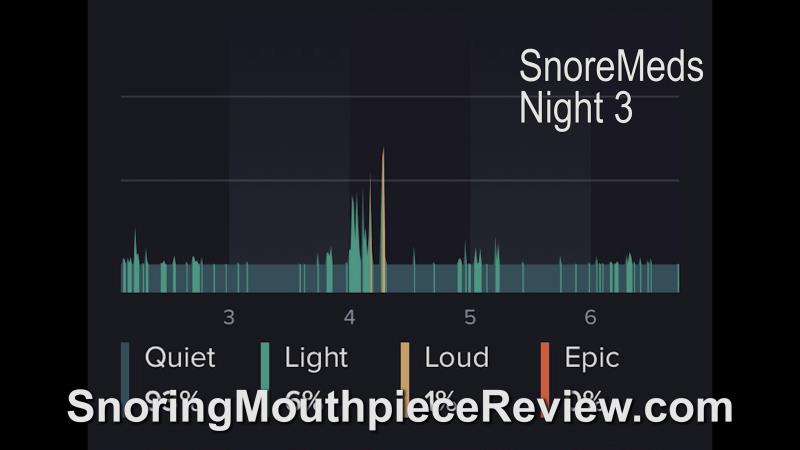 Night 4: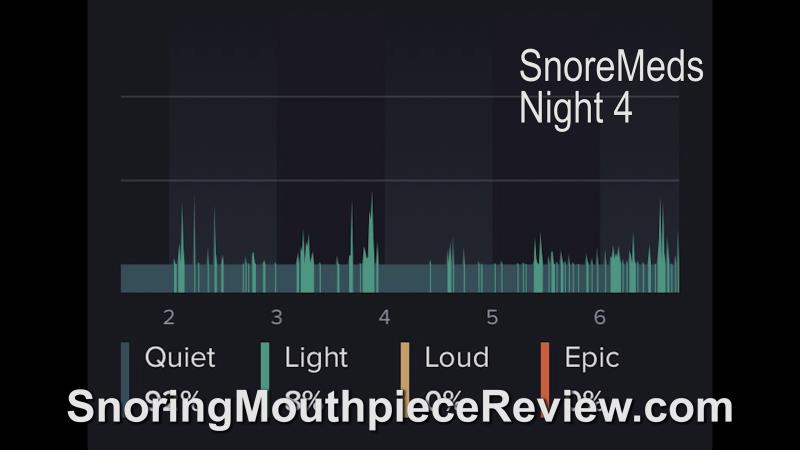 During the time the patient wore SnoreMeds and recorded their snoring, they also measured their blood oxygen saturation using a pulse oximeter to make sure they were breathing properly at night.
The following results, recorded with the CMS50E pulse oximeter, indicate that the patient was better able to breathe while wearing SnoreMeds. They were able to breathe even better after making re-fitting the mouthpiece.
Oxygen results:
Before SnoreMeds: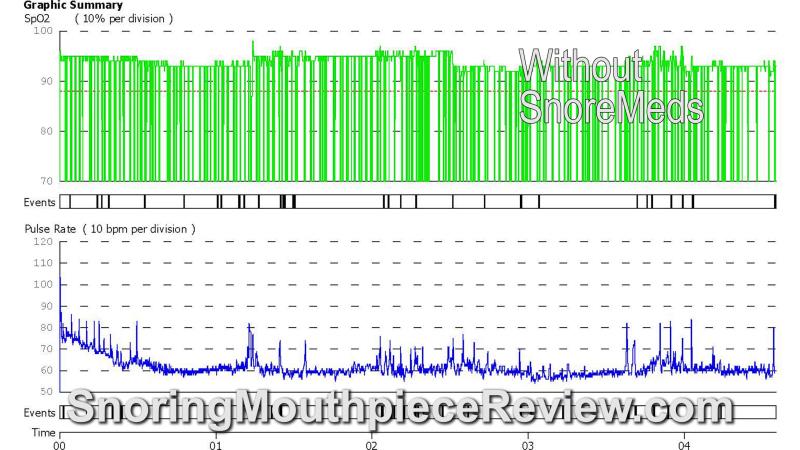 Night 1: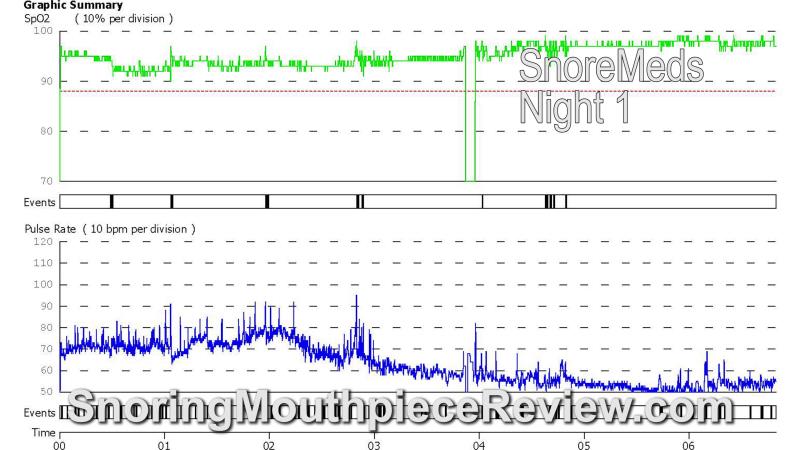 Night 2: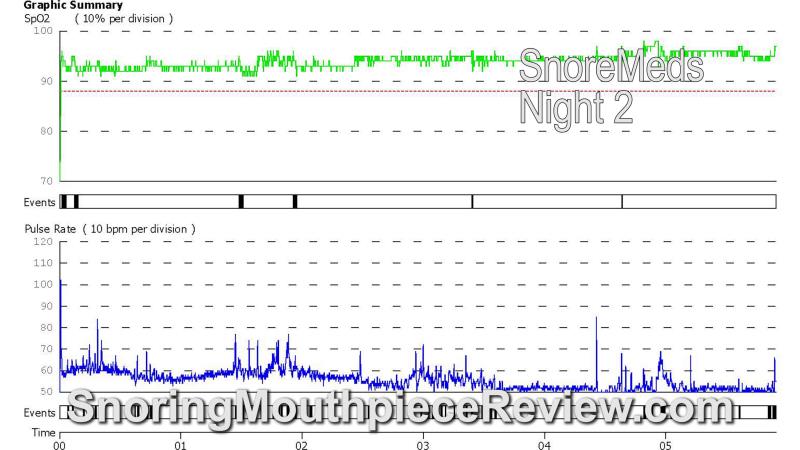 Night 3: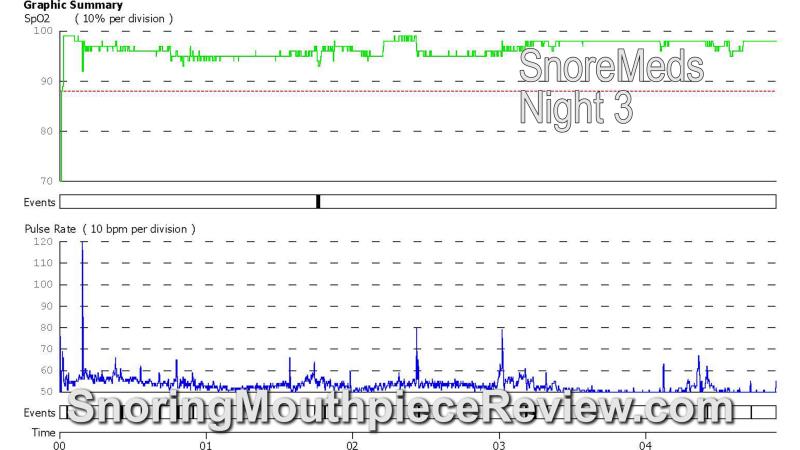 Night 4: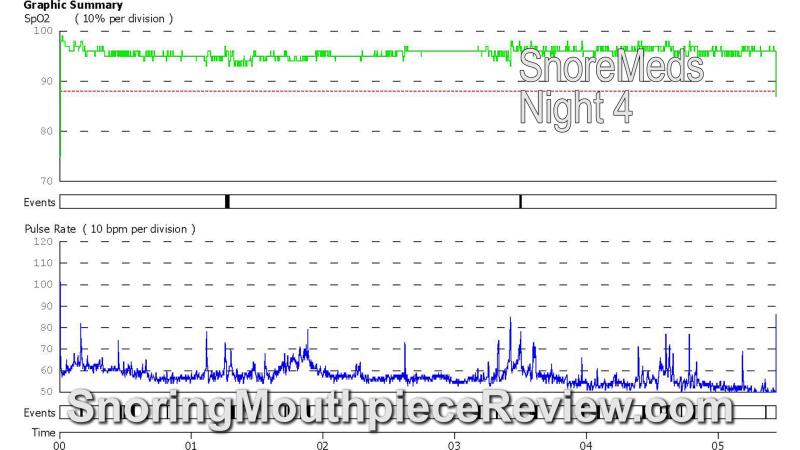 Overall, the patient mentioned mouthpiece was relatively comfortable to wear at night but that it was not as tight as it could have been. The patient was only able to reduce snoring after re-fitting the mouthpiece.
---
Fitting Process
Step-By-Step Fitting Instructions For SnoreMeds
Note: You should brush your teeth before fitting SnoreMeds
Required:
Stove (to boil water)
Sauce pan or teapot (for water to boil)
A mug to pour the water in or the pot used for boiling the water
Timer (a phone or clock will work)
A mirror to see yourself fitting the mouthpiece
The SnoreMeds mouthpiece with its fitting spatula
Step-by-step fitting instructions:
Practice fitting the mouthpiece, making sure the right side it up
Boil water on the stove
Turn the stove off
Insert the fitting spatula into the mouthpiece
Put the mouthpiece into the boiled water
Keep the mouthpiece underwater for 18 seconds
Remove SnoreMeds and place the mouthpiece in your mouth

Place the mouthpiece on your lower teeth
Bring the upper jaw down carefully into position
Make sure your teeth remain inside the edges of the mouthpiece
Fit down firmly and move your jaw foward 3-5 mm
Use your index fingers to press the mouthpiece tightly against the teeth for a proper mold

Place the mouthpiece into cold water, or run under cold water, for 30 seconds
Photos of the fitting process:
Before fitting SnoreMeds, you need to bring the water to a boil. You put the mouthpiece into the water for 18 seconds by holding onto its fitting spatula.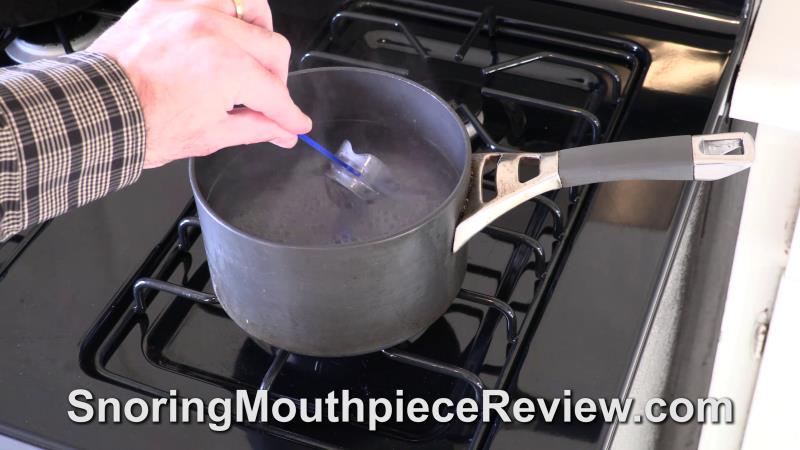 Place the mouthpiece into cold water after fitting it to set the impression. Keep in cold water for 30 seconds.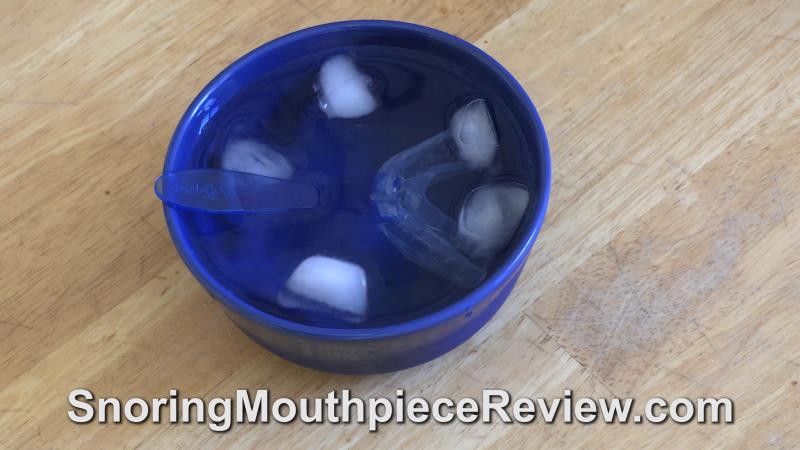 What does SnoreMeds look like after fitting?
After fitting SnoreMeds, you should see clear impressions of your teeth on the upper and lower parts of the mouthpiece.
The airway may collapse during fitting. This means that you will have to breathe through your mouth when using the mouthpiece.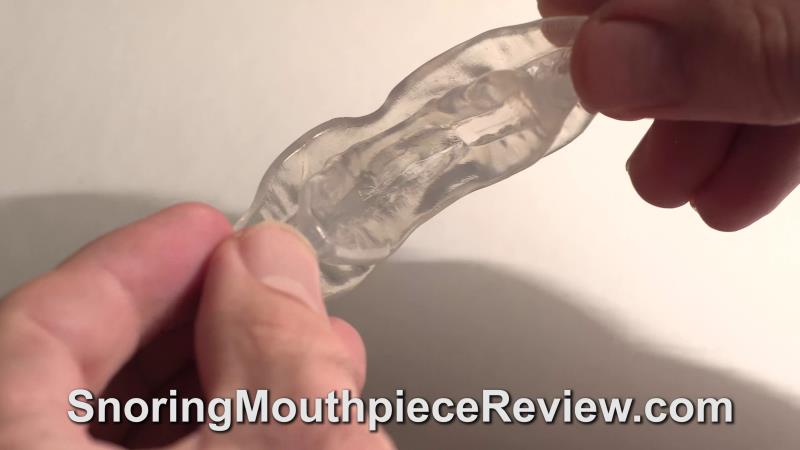 Can I re-mold my teeth impression?
Yes, you can re-mold your SnoreMeds teeth impression up to 3 times before the material becomes too soft.
---
Costs, Shipping Options And Warranty
What does SnoreMeds cost?
$46.95 + shipping ($7.91 US) = $54.86
Note: there is free shipping over $94 on orders within the USA
What are the shipping options for SnoreMeds?
United States Customers - Shipping 2-4 days using USPS - Estimated Charge $7.91
Australian Customers - First Class Mail Parcel with tracking - Shipping 2-4 days - Estimated Charge $11.54
Canadian Customers - Canada Post Xpresspost - Shipping 2 days - Estimated Charge $16.48
The Rest of the World - Shipping 10-14 days - Global Mail service with Tracking - Estimated Charge $14.40
Note: it takes 2 days for the warehouse to process your order
Can you buy SnoreMeds on Amazon or at Walmart, CVS or Walgreens?
No, you must buy SnoreMeds from their website.
What's the warranty and return policy for SnoreMeds?
SnoreMeds offers a 45-day refund to ensure you are satisfied. For a full refund, the product must be in its original packaging.
The customer is responsible for return postage.
What payment options does SnoreMeds accept?
You can order SnoreMeds using PayPal or 2Checkout with a credit card.
---
Company Info
SnoreMeds Details

Company Name
SnoreMeds
Business Address
616 Corporate Way, Suite 2-5109, Valley Cottage, NY 10989
Mouthpiece Type
Mandibular Advancement Device (MAD)
FDA Cleared
No
Total Price
$105.95 ($99 + $7.95 shipping)
BBB Status
Not accredited
---
Cleaning
How do you clean SnoreMeds?

You can clean SnoreMeds using the spatula supplied with it. Hold the mouthpiece by the spatula and use a toothbrush with tooth paste to clean it or place the mouthpiece.
You can also clean SnoreMeds in a container with a Polident tablet.
Additionally, mouthwash can also be keep the mouthpiece clean.
---
Summary
Overall Review Of SnoreMeds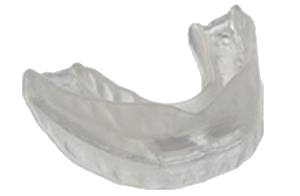 SnoreMeds is a single piece snoring mouthpiece that relies on boil and bite fitting to make an impression of your teeth. It is important to hold your jaw far forward when fitting the mouthpiece so that it opens your airway.
The airway opening for SnoreMeds is small and easily collapses during fitting. This makes it important that you can breathe through your nose when wearing the mouthpiece.
SnoreMeds is lower cost than many snoring mouthpieces. It is not not cleared by the FDA but does use medically safe materials.
SnoreMeds is best for people with simple snoring, good teeth, who are able to breathe through their nose, and are looking for a low cost snoring mouthpiece.
Visit Official Site
Where can I buy SnoreMeds?
Official website: www.snoremeds.com
---
No Comments
---
---