Last updated: August 6th, 2023
---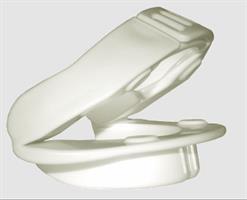 The first glance at SnoreMender PS might deceive you with its seemingly simple design, but the device's ability to open and close seamlessly sets it apart from other leading anti-snoring devices. The flexibility to move one's mouth when using such a device is definitely a plus. However, my hands-on journey with it didn't quite meet the expectations.
Pros of SnoreMender PS
Innovative hinged design facilitating jaw movement.
The unique Pressure Shift Technology lessens the strain on front teeth, shifting it to sturdier ones.
Manufactured without harmful materials like BPA, latex, and silicone.
Ready for use straight from the packaging.
Comes with a reassuring 90-day guarantee.
Offers complimentary shipping for every device.
Affordably priced, catering to tighter budgets.
The minimalistic design ensures hassle-free cleaning.
The longevity of SnoreMender PS spans between 9 to 18 months.
Points of Contention
A singular size may not cater to all users.
Refunds are granted only post a 90-day "fair" trial.
Absence of clearance from the United States Food and Drug Administration.
Potential side-effect includes jaw discomfort.
SnoreMender PS Up Close
Recognized as a mandibular advancement device (MAD), SnoreMender PS aims to keep airways unobstructed, lessening the likelihood of snoring. It achieves this by gently positioning the lower jaw forwards. The mouthpiece, crafted from a sleek white medical-grade dental thermoplastic, is devoid of BPA, silicone, latex, and phthalates. This safe construction did offer some hope, but the overall experience overshadowed this promising aspect.
My Journey with SnoreMender PS
I've always appreciated ZQuiet, ranking it as my second-favorite anti-snoring appliance. So, discovering another MAD with hinged technology naturally intrigued both me and my partner.
Upon its arrival, I promptly cleaned them, taking care to avoid hot water or toothpaste. The instructions suggest briefly running hot water over the hinges, which I adhered to.
Unfortunately, wearing it was a far cry from the anticipated comfort. For me, the fit felt off, akin to forcing a square object into a round space. It seemed slightly small for my size, but conversely, it was excessively large for my partner.
Pricing Structure
A single SnoreMender PS retails at $57. Purchasing two drops the price to $49 each, and buying three lowers it to $43 each. These deals come with complimentary shipping and are under a 90-day guarantee.
Final Reflection
The SnoreMender PS, while boasting an excellent concept, fails in its execution. The design leaves much to be desired, despite the right pricing and material choice. For those intrigued by the hinged design, I'd steer them towards ZQuiet, which offers both comfort and a better fit. If ZQuiet doesn't suit, perhaps consider the SnoreRx.
Still Unsure Which Mouthpiece Is Best For You?
Find out if a mouthpiece is right for you by visiting our best snoring mouthpiece review page.
---
No Comments
---
---