Last updated: August 16th, 2023
---
When you buy through our links, we may earn a commission. Products or services may be offered by an affiliated entity. Learn more.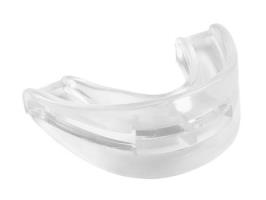 SnoreMedic: Mouthpiece Review
What is SnoreMedic?
SnoreMedic is a snoring mouthpiece which works by gently holding the jaw, preventing it from falling back as the muscles around the upper airway relax. SnoreMedic is a Mandibular Advancement Device (MAD) which means it's a mouthpiece that works by moving the lower jaw forward, preventing the vibration that causes snoring.
Review Contents
---
Ratings/ Pros and Cons
SnoreMedic Ratings
Pros And Cons Of SnoreMedic
Pros
Comfortable
Low cost
Can be re-fit up to 3 times
No adjustment tools required
Cons
Airway opening can easily collapse during fitting, making mouth breathing difficult or not possible
Not FDA cleared
Material is not be as durable as other mouthpieces
---
How It Works
How does SnoreMedic work?
Airway obstruction causes snoring. SnoreMedic addresses this by keeping your airway open, holding your jaw in place.
After making a custom impression of your teeth with your lower jaw held slightly forward, your jaw will remain in place, allowing air to freely flow into the lungs.
Keeping your airway open will reduce most snoring.
---
Video Review
Video Review Of SnoreMedic
This is a SnoreMedic video for Snoring Mouthpiece Review:
What you'll see in the video review:
How SnoreMedic works
What's in the box
How to fit SnoreMedic
Actual patient results (snoring and oxygen charts)
How to clean the mouthpiece
---
What's Included
What's in the SnoreMedic box?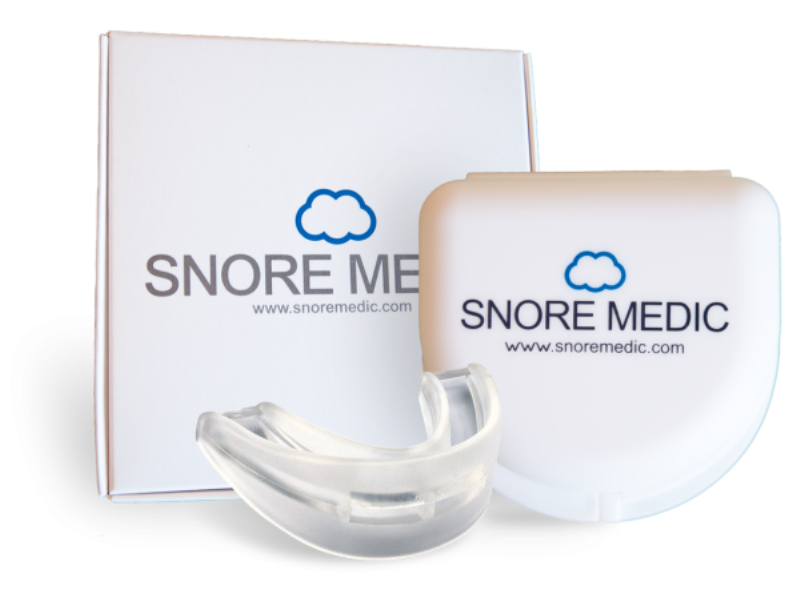 SnoreMedic includes:
One (1) SnoreMedic snoring device
One (1) storage case
Fitting instructions
SnoreMedic in box: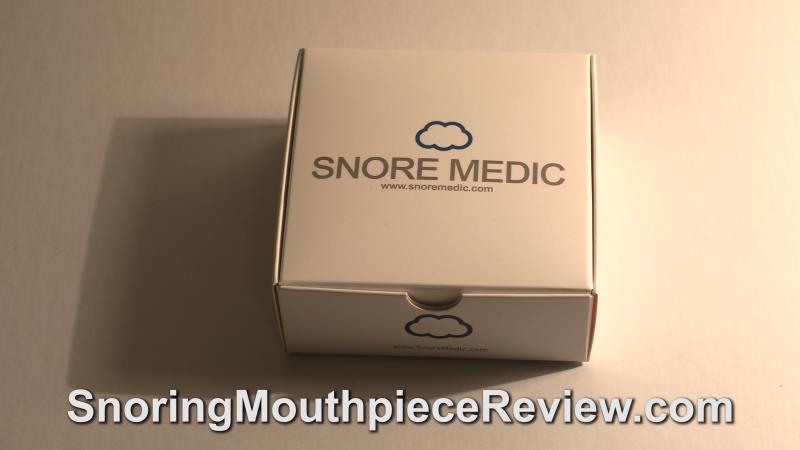 SnoreMedic out of box: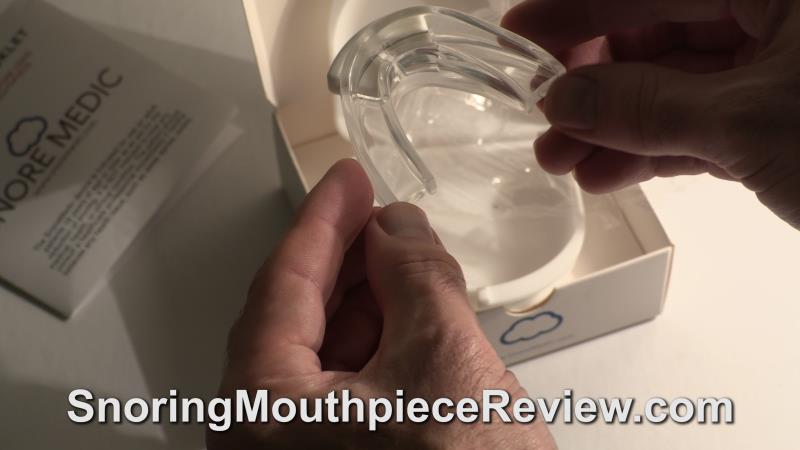 SnoreMedic booklet: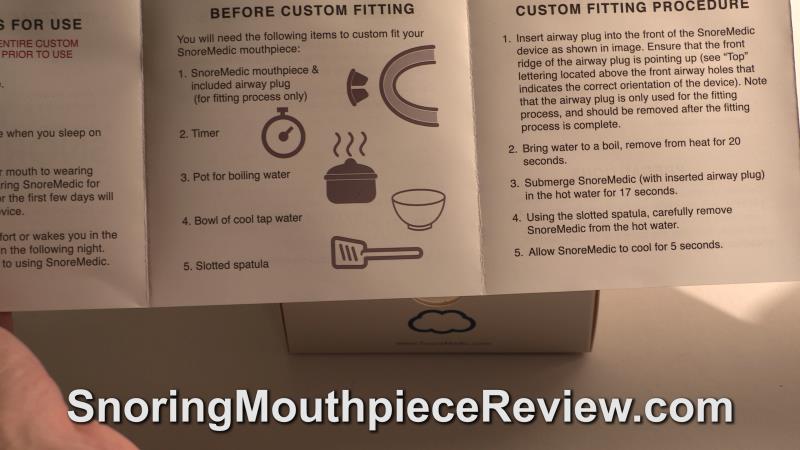 ---
Precautions/ Health Info
Can SnoreMedic a choking hazard?
No. SnoreMedic is too large to be swallowed.
Who should not use SnoreMedic?
According to SnoreMedic, the follow people shouldn't use their mouthpiece:
Have central sleep apnea
Have severe respiratory disorders
Have loose teeth or advanced periodontal disease
Are under 18 years old
Have TMD/ TMJ, temporomandibular joint disorder (jaw problems)
Had dental implant work done in the last year
Have dentures
Have abcesses
Are undergoing orthodontic treatment
Have a history of chronic asthma, emphysema, or any respiratory disorder, unless approved by a patient's physician
What side effects can occur with SnoreMedic?
According to the SnoreMedic instruction booklet, the following may occur to some people:
Tooth movement or changes in dental occlusion
Gingival or dental soreness
Pain or soreness to the temporomandibular joint
Excessive salivation or dry mouth
Obstruction of oral breathing
Excess salivation
Does SnoreMedic work for sleep apnea?
No, SnoreMedic is only designed for snoring and isn't intended for sleep apnea.
Can I wear SnoreMedic if I have dentures of a bridge?
No. You should not use SnoreMedic if you have dentures.
Can I use SnoreMedic if I wear braces or a retainer?
Maybe, you should talk to your orthodontist if you wear braces or a retainer and want to wear SnoreMedic.
Does SnoreMedic contain latex or BPA?
It is unknown if the mouthpiece contains latex or BPA since it is not mentioned on their website.
Is SnoreMedic cleared by the FDA?
No, SnoreMedic has not been cleared by the FDA (U.S. Food and Drug Administration). Most snoring mouthpieces are FDA cleared.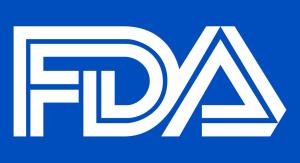 ---
Product Details
What does SnoreMedic look like?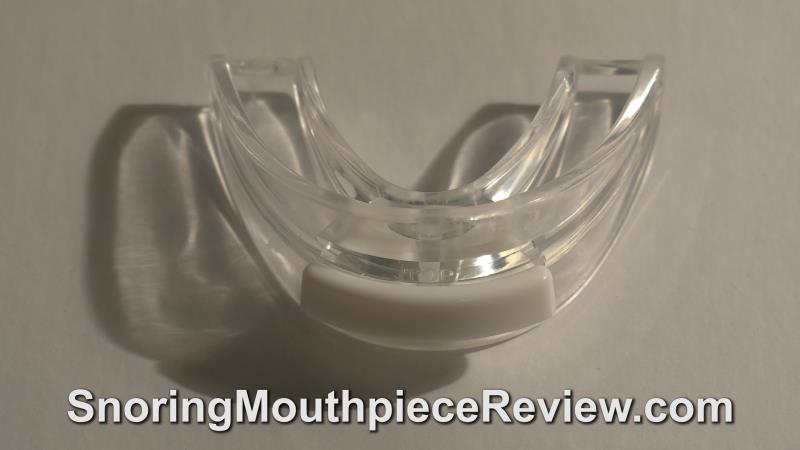 How long will SnoreMedic last?
The device should last 12 months of repeat usage.
SnoreMedic guarantees the product for 30-days.
Are there different versions of SnoreMedic?
No, SnoreMedic only comes in one size.
How much lower jaw advancement does SnoreMedic provide?
The mouthpiece can advance the lower jaw about 5mm maximum.
Are there male and female versions of SnoreMedic?
No. There is only one version of SnoreMedic which is used for both men and women.
How wide is the SnoreMedic airway?
SnoreMedic has an airway opening of 3 millimeters. The airway opening may collapse during the fitting process, however. In this case, you will not be able to breathe through your mouth while wearing SnoreMedic.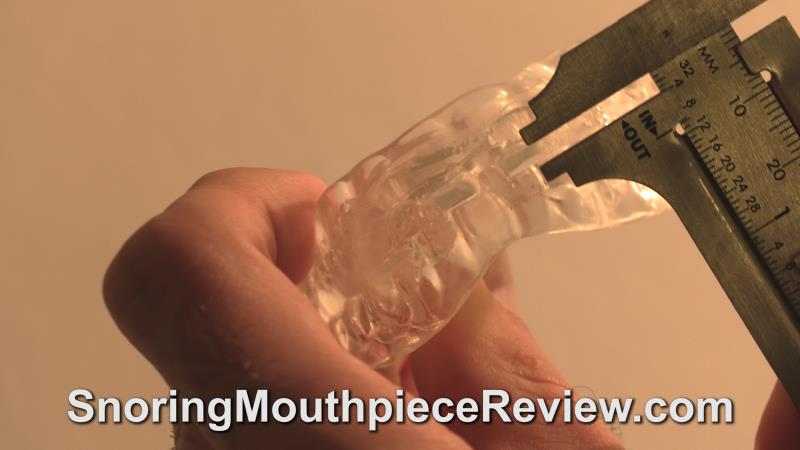 What is the width and length of SnoreMedic?
SnoreMedic is 71mm wide and 45mm in length.
How does SnoreMedic compare to other mouthpieces?
When reviewing, SnoreMedic is very similar to SnoreMeds. SnoreMedic is slightly less bulky and has a longer airway opening than SnoreMeds.
---
Patient Results
Actual Patient Results Wearing SnoreMedic
A patient who snored wore SnoreMedic for three consecutive nights.
The results, captured using a snoring app, show that the snoring was reduced in duration and intensity each night.
Before using SnoreMedic: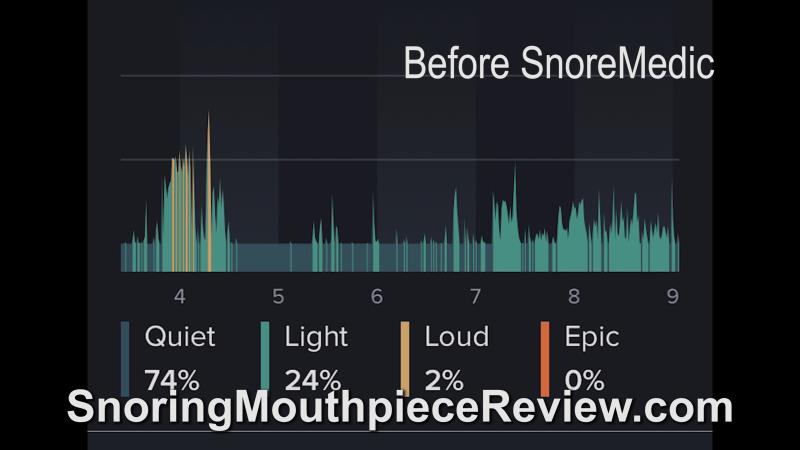 While wearing SnoreMedic: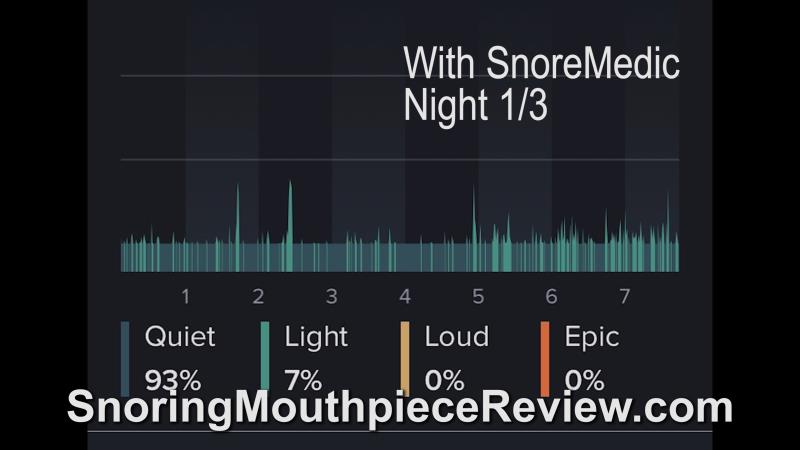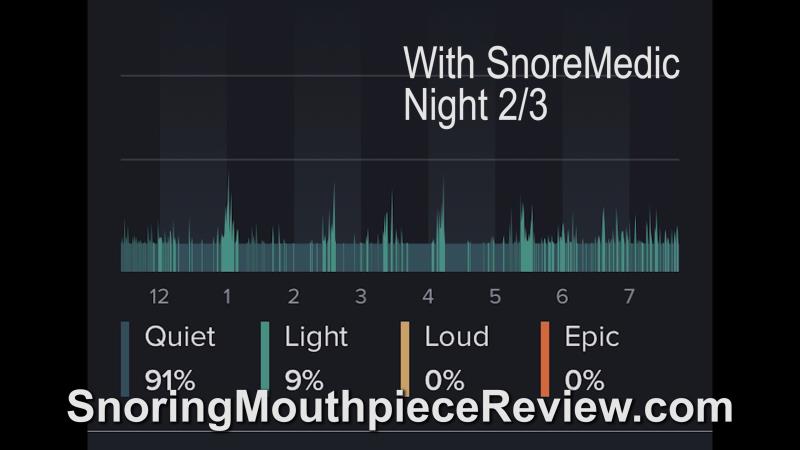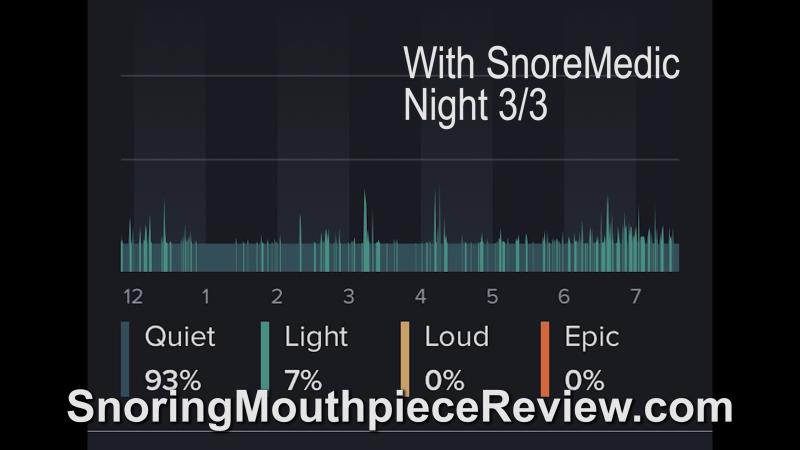 Oxygen saturation report: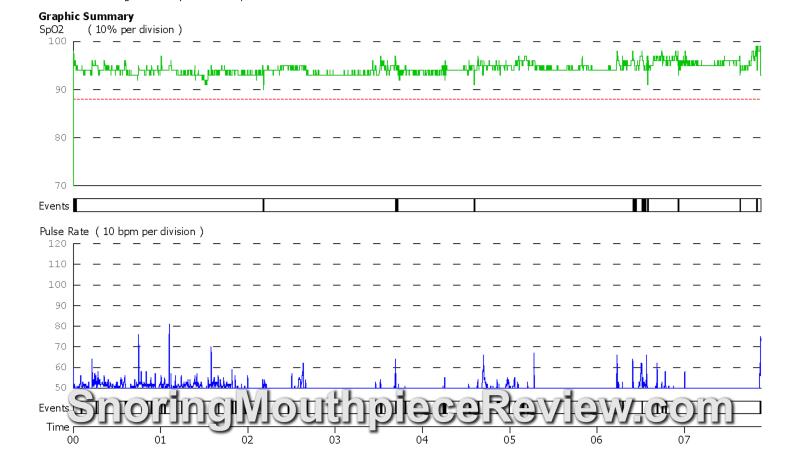 ---
Fitting Process
Step-by-step fitting instructions for SnoreMedic
Top of SnoreMedic: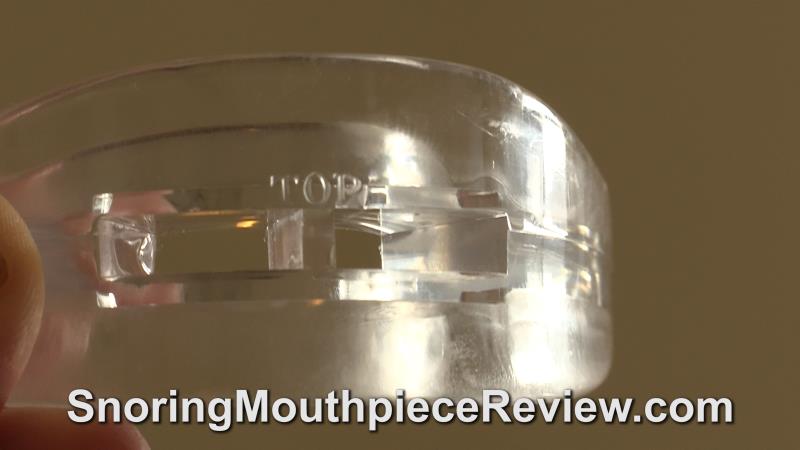 Before fitting and use, notes:
Brush your teeth
Remove partial dentures if you have them
SnoreMedic is more effective when you sleep on your side or stomach
It is helpful to acclimate your mouth to wearing SnoreMedic. If needed, wearing SnoreMedic for short intervals (2-3 hours) for the first few days will help you acclimate to the device.
If the device causes discomfort or wakes you in the night, remove it and try again the following night. With time you will acclimate to using SnoreMedic.
Required for fitting:
SnoreMedic mouthpiece with airway plug
Timer
Pot for boiling water
Bowl of cool tap water (helps set impression)
Slotted spatula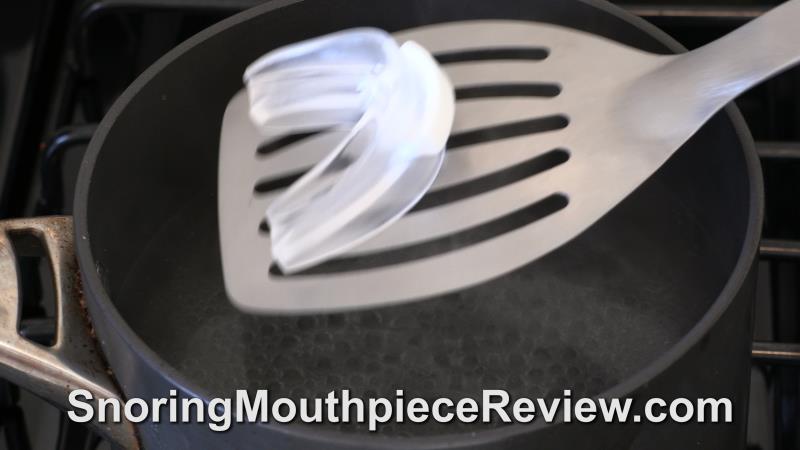 Step-by-step fitting instructions:
Insert airway plug into the front of the SnoreMedic device as shown in images. Ensure that the front ridge of the airway plug is pointing up (see "Top" lettering located above the front airway holes that indicates the correct orientation of the device). Note that the airway plug is only used for the fitting process, and should be removed after the fitting process is complete.
Bring water to a boil, remove from heat for 20 seconds.
Submerge SnoreMedic (with inserted airway plug) into how water for 17 seconds.
Using the slotted spatula, carefully remove SnoreMedic from the hot water.
Allow SnoreMedic to cool for 5 seconds.
Carefully place SnoreMedic in your mouth, ensuring that the top side of the mouthpiece is being fitted to your upper teeth.
While holding your lower jaw slightly forward in a comfortable position, bite down firmly.
Suck down on the mouthpiece to create a vaccuum. Use your fingers to push the plastic against your teeth to produce a firm custom fit.
Remove the mouthpiece from your mouth and place it in cold water for 1 minute to set the shape.
Remove the airway plug.
Note: you can repeat the fitting process up to 3 times if you do not get a good impression or much jaw advancement.
SnoreMedic with impressions: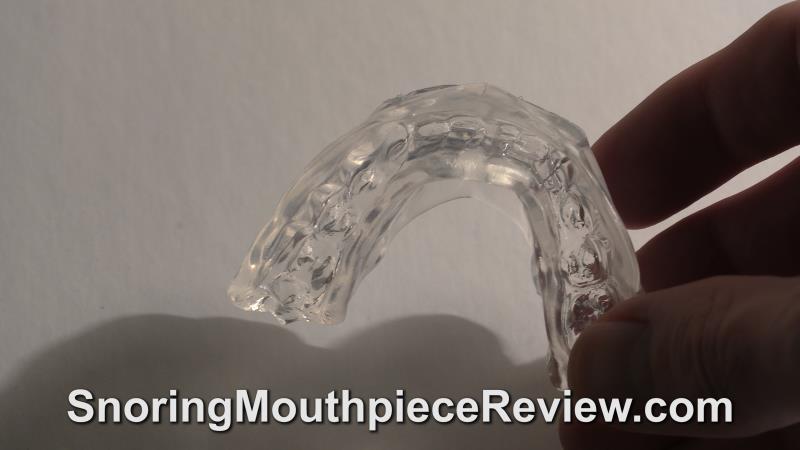 SnoreMedic in water after fitting: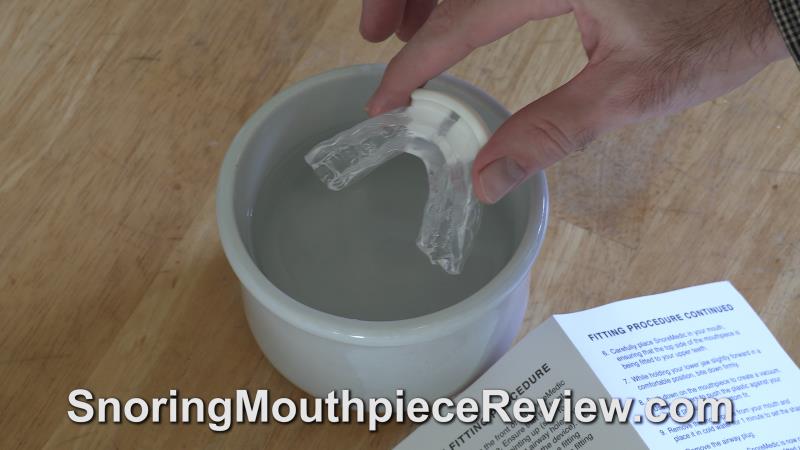 ---
Costs, Shipping Options And Warranty
What does SnoreMedic cost?
$43.94 ($39.99 + $3.95 shipping)
What shipping options and methods does SnoreMedic offer?
Domestic
United States Postal Service (USPS)

First Class ($3.95)
Priority ($7.95)
Can you order SnoreMedic in Canada or outside the United States?
No. SnoreMeds can only be purchased in the United States (including Puerto Rico).
What payment methods does SnoreMedic accept?
Visa
Mastercard
American Express
Discover
PayPal
What's the warranty and return policy for SnoreMedic?
SnoreMedic offers a 30-day refund to ensure you are satisfied. If you need to return it, include your order number on the package.
The cost of the shipping and return shipping is not refunded if you return SnoreMedic.
You need an RMA from SnoreMedic to initiate a return.
Is there a satisfaction guarantee with SnoreMedic?
Yes. SnoreMedic offers a 100% satisfaction guarantee within 30-days of receiving the device.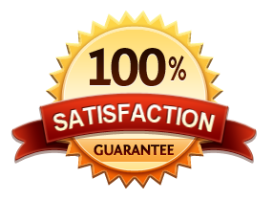 ---
Company Info
Is SnoreMedic BBB accredited?
No, SnoreMedic is not accredited by the BBB (Better Business Bureau).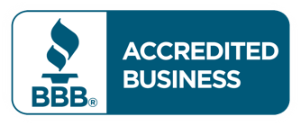 SnoreMedic Details

Company Name
SnoreMedic
Business Address
Bakersfield, CA, USA
Mouthpiece Type
Mandibular Advancement Device (MAD)
FDA Cleared
No
Total Price
$43.94 ($39.99 + $3.95 shipping)
BBB Status
Not accredited
---
Cleaning
How do you clean SnoreMedic?

You should clean SnoreMedic periodically.
You can clean SnoreMedic by using a toothbrush and toothpaste, or by soaking it in water with effervescent oral device cleaning tablets.
Avoid using abrasive solutions such as household cleaners like ammonia or bleach.
You can dry SnoreMedic out in the open or in its case with the holes in the case unobstructed.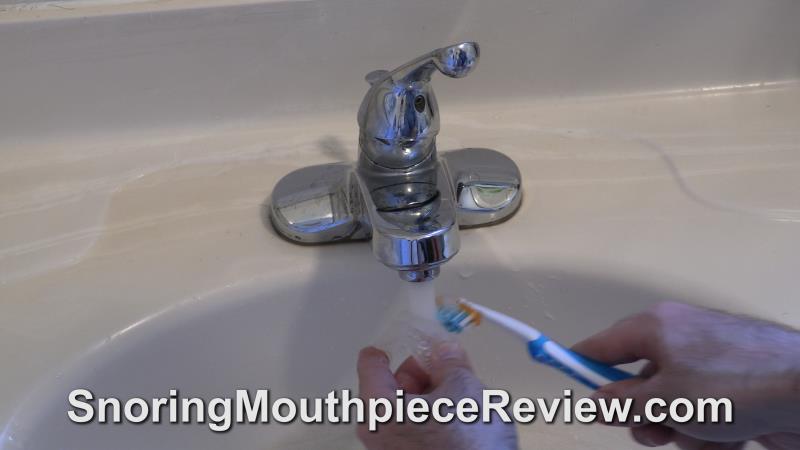 ---
Summary
Overall Review Of SnoreMedic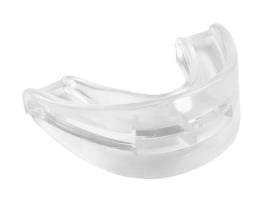 SnoreMedic is an easy to fit mouthpiece which can reduce snoring.
You can re-adjust by re-heating it if you do not make a firm impression or if your lower jaw is not advanced forward enough.
The material used for SnoreMedic is not as durable as some other mouthpieces and the airway opening is likely to collapse while fitting. This means that it's important you can breathe through your nose while you wear the mouthpiece.
---
Comments
No Comments
---
---