Last updated: February 6th, 2019
---
We participate in affiliate programs, where we are compensated for items purchased through links from our site (at no cost to the buyer). See our disclosure page for our list of comped products and affiliate programs.
---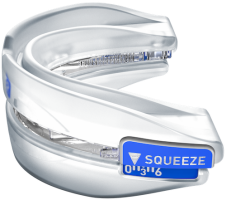 SnoreMD: Mouthpiece Review
What is SnoreMD?
SnoreMD is a snoring mouthpiece which works by gently holding the jaw forward to improve airflow during sleep by using precise adjustment.
It's a mandibular advancement device (MAD) which means it's a mouthpiece that works by moving the lower jaw forward, preventing the vibration that causes snoring.
Company site: https://snoremd.com/
Review Contents
---
Ratings/ Pros and Cons
SnoreMD Ratings
Pros and cons of SnoreMD
Pros
Comfortable
Adjustable
Cheaper than some other snoring mouthpieces
Cons
Not FDA cleared
Harder to clean
---
How It Works
How does SnoreMD work?
The mouthpiece is first molded to your teeth during the boil and bite fitting process. Once fit, it can be adjusted incrementally to your desired setting. The setting adjusts how far forward the lower jaws sits. This enables creating an open airway while sleeping, which helps to reduce or eliminate snoring.
During sleep, tissues in the throat relax. This can restrict breathing and create an irritating snoring sounds.
---
Precautions/ Health Info
Does SnoreMD work for sleep apnea?
No, SnoreMD is not for the treatment of sleep apnea. Any patient who believes they may have sleep apnea should consult their health care professional.
What are the contraindications for SnoreMD?
SnoreMD should not be used by patients who:
Have central sleep apnea
Under the age of 18
Have a history of TMD, temporomandibular disorder
Have received dental implants within the past year
Have loose teeth, abscesses, or severe gum disease
Have a history of chronic asthma, emphysema, or any respiratory disorder, unless approved by their physician
What warnings are there about SnoreMD?
Use of SnoreMD may cause:
Tooth movement or changes in dental occlusion
Gingival or dental soreness
Excessive salivation
Obstruction of oral breathing
Users should consider his or her medical history, including history of asthma, breathing, respiratory disorder, or other relevant health problems, and consult the appropriate healthcare provider before using the device.
Who is SnoreMD designed for?
SnoreMD is intended for the use on adult patients 18 years of age or older as an aid for the reduction of snoring.
Does SnoreMD contain latex or BPA?
Unknown. SnoreMD does not mention what their product is made of.
Is SnoreMD cleared by the FDA?
Unclear, inside the SnoreMD instruction booklet, it says: "SnoreMD is FDA Classified: OTC Part No. MD002" but this doesn't mean that the FDA has cleared SnoreMD for snoring.
---
Product Details
How long will SnoreMD last?
The device should last 9 months of repeat usage.
Are there different versions or sizes of SnoreMD?
No, SnoreMD only comes in one size.
How does SnoreMD compare to other mouthpieces?
When reviewing, SnoreMD is similar to SnoreRx.
What are the usage instructions for SnoreMD?
Brush your teeth and remove partial dentures before using SnoreMD.
Your SnoreMD has been custom-fitted to your mouth and should not be used by anyone else.
SnoreMD works best if you sleep on your side or stomach. Specially designed pillows and "leg pillows" are available to help you stay on your side during sleep.
Some people may experience excessive salivation, dry mouth and tenderness of the jaw, teeth and gums during initial use of SnoreMD.
If you wake up in the middle of the night and are bothered by your SnoreMD, just take it out and go back to sleep. Each night, you should be able to sleep longer with your SnoreMD. In just a few nights, you should be sleeping with reduced snoring through the entire night.
---
Fitting Process
Step-by-step fitting instructions for SnoreMD
Materials required for custom fitting are:
Heat-resistent cup
Timer
Spatula or tongs
Cup of water
Fitting steps:
Note: brush your teeth before fitting
Ensure SnoreMD is set on the factory setting of 3 mm.
Bring a mug of water to a full boil.
Submerge SnoreMD into the boiled water for precisely 90 seconds. Remove the device using a spatula or tongs.
Quickly dip SnoreMD into a cup of tap water for 2-3 seconds to remove any hot water.
Bite down firmly into the device for 30 seconds.
Remove SnoreMD from your mouth and place it in bowl of tap water for 60 seconds to set the impression.
SnoreMD should display prominent teeth marks after the custom fitting procedure. If this does not occur, repeat steps 1-6.
Adjustment instructions:
Hold SnoreMD in the "C" position in your left hand. Simultaneously squeeze in both sides of the upper jaw piece with your right thumb and forefinger. If required, use your left fingers as shown to assist movement.
To advance the lower jaw piece forward, slide the upper tray in the 1 to 6 direction.
To reposition the lower jaw piece backwards, "rock" the upper tray from side to side in the 6 to 1 direciton.
Gradually adjust SnoreMD in 1mm increments every night until improvement is noticed.
Make sure both sides of the device are adjusted to the same setting at all times.
---
Costs, Shipping Options And Warranty
What does SnoreMD cost?
$39.95 + $5.95 (standard shipping) = $45.90
What shipping options and methods does SnoreMD offer?
Standard shipping: $5.95
2-Day shipping: $9.95
What payment methods does SnoreMD accept?
Visa
Mastercard
American Express
Discover
What's the warranty and return policy for SnoreMD?
Unknown. SnoreMD does not mention this.
---
Company Info
Is SnoreMD BBB accredited?
No, SnoreMD is not accredited by the BBB (Better Business Bureau).
SnoreMD Details

Company Name
SLEEP SPECIALTIES LLC
Business Address
7582 Las Vegas Blvd. Suite #477
Las Vegas, NV 89123
Mouthpiece Type
Mandibular Advancement Device (MAD)
FDA Cleared
No
Total Price
$39.95 + $5.95 (standard shipping) = $45.90
BBB Status
Not accredited
Note: SnoreMD appears to be the same company and mouthpiece as "Silent Sleep".
---
Cleaning
How do you clean and care for SnoreMD?
Store SnoreMD in its case in a cool, dry place. SnoreMD should be stored at temperatures between 40 degrees and 90 degrees Farenheit.
Periodically clean SnoreMD with a toothbrush and toothpaste. An ultrasonic cleaner is best.
Do not use harsh chemicals or household cleaning products like bleach or ammonia.
---
Summary
Overall Review Of SnoreMD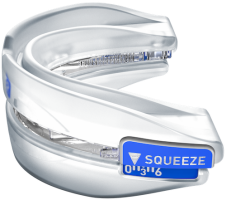 SnoreMD uses a combination of boil and bite fitting and incremental adjustment. This make it easier to get the most effective fit.
The mouthpiece is very similar to SnoreRx although it is not FDA cleared and should be thought of as a knock-off.
Despite SnoreMD costing less than SnoreRx and being quite similar, we recommend SnoreRx because it's FDA cleared and the business has been around longer.
---
Suzanne Flannelly




I would like to say that there should be 2 different sizes made. One for a women and one for a man. I could not get the mouthpiece in my mouth to even fit it. It was so big I was choking on it. There was no way for me to be able to use this product comfortably. Now I can't return it since I have tried several ways to fit it in my mouth. Waste of money for me.

Stephanie




One video says to place the appliance in the boiling water for 30 seconds, the website says 90 seconds, and the insert that came in the package says two minutes. Each time the word precisely precedes the time. I'm confused.
---
---