Last updated: September 11th, 2023
---
When you buy through our links, we may earn a commission. Products or services may be offered by an affiliated entity. Learn more.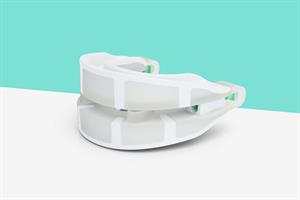 Table of Contents
Overview of SnoreLogic
From Europe's leading snoring relief brand, SnoreLogic is your answer to silent nights and peaceful slumbers. Crafted meticulously by a UK team with over 25 years of snoring expertise, this patented design mouthpiece has now made its debut in the USA, promising the same relief that has satisfied millions in Europe.
Benefits of SnoreLogic
Custom Fitting: The mouthpiece's soft inner plastic molds perfectly to your teeth.
Adjustable: Effortlessly make micro adjustments for the ideal jaw position without any tools.
Fully Flexible: Experience the unique freedom to open your mouth and move your jaw side to side even with the mouthpiece on.
App Supported: Utilize the free SnoreLogic app for fitting guidance, progress tracking, and other remedy suggestions.
FDA Cleared: Trust in the safety and effectiveness of this BPA & Latex Free device.
How SnoreLogic Works
Ever wondered why we snore? As we drift into sleep, the muscles in our throat relax, which can sometimes cause the airway to narrow. This narrowing can lead to the vibration of the soft tissue in your throat as you breathe, manifesting as snoring. SnoreLogic operates on a simple yet effective principle. By advancing your jaw forward, the mouthpiece ensures that your airway remains open, promoting silent, obstruction-free breathing.
Getting Started with SnoreLogic
Heat the mouthpiece in hot water to soften it.
Create a custom impression by biting down on it.
Using the screws, adjust the mouthpiece to your comfort.
Enjoy a snore-free, restful sleep!
What People Are Saying
"I have tried numerous products, spending a significant amount in the process. SnoreLogic is the only solution that truly worked. Highly recommended!" - Amazon customer
"I wish we had discovered this years ago! It could've saved us from countless nights of disturbed sleep." - Amazon customer
"This mouthpiece was a game-changer. From being a notorious snorer to sleeping in complete silence, my partner and I are elated." - Amazon customer
The Silent Night Guarantee
Still on the fence? With the Silent Night Guarantee, try the SnoreLogic mouthpiece risk-free for 30 nights. If you're not content with the results, simply return it to us for a full refund. It's a win-win situation!
FAQ
What is SnoreLogic's core functionality?
The SnoreLogic Snoring Mouthpiece is a Mandibular Advancement Device (MAD). This means it combats snoring by holding the lower jaw forward, ensuring the airway remains open.
Is it safe to use the SnoreLogic Mouthpiece?
Absolutely! The SnoreLogic Snoring Mouthpiece is FDA cleared for treating snoring and is made of BPA-free plastic without any latex.
Can I adjust the mouthpiece to my comfort?
Yes, the SnoreLogic mouthpiece can be easily tweaked in small increments by turning its plastic screws, allowing you to find the most comfortable jaw advancement level.
What if the mouthpiece doesn't work for me?
Not to worry! If you find that the SnoreLogic Snoring Mouthpiece isn't effective for you within the first 30 nights, you're entitled to a full refund.
---
Comments
No Comments
---
---