Last updated: August 7th, 2023
---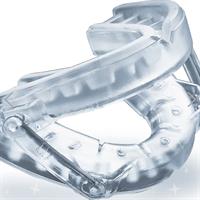 Key Features:
Custom Fit: Easily moldable at home
Superior Comfort: Conforms to the arch shape
Enhanced Design: Allows jaw to open while in use
Adjustability: Up to 6mm of advancement in 1mm increments
FDA Cleared: Suitable for OTC use for those 18 and older
Money-Back Guarantee: 90 days risk-free trial
Price: $89.99 with free delivery in the USA
About the Inventor: Dr. David Spainhower
Dr. David Spainhower, the mastermind behind SmartGuard®, has firsthand experience with TMJ pain and recognizes the transformative power of an effective solution. "My mission since dental school has been to create a night guard that's both potent and accessible to everyone," he states. With over 18 years in the field, Dr. Spainhower believes that SmartGuard® is the best in its category.
FAQs about SmartGuard®
What is SmartGuard® designed for?
SmartGuard® is primarily designed to assist adults above 18 in reducing snoring. However, it's not a treatment for sleep apnea.
Are there any precautions to consider?
Yes, if you suspect you have sleep apnea, consult a doctor. Also, if you've had significant dental work or face dental concerns, speak with your dentist before use. Discontinue immediately if you experience worsened snoring, severe pain, or difficulty breathing.
Are there individuals who shouldn't use SmartGuard®?
Certain conditions and situations may make SmartGuard® unsuitable. These include severe respiratory disorders, central sleep apnea, serious dental issues, recent dental implants, and being under 18.
Any potential side effects?
Possible side effects include changes in dental structure, gum or dental pain, temporomandibular joint discomfort, oral breathing issues, and excessive saliva production. If prolonged discomfort or other problems arise, stop using and consult a professional.
For further inquiries about SmartGuard® or to place an order, reach us at 855-576-2785. Always keep your dentist informed if you're using the SmartGuard® Anti-Snore Device.
Address
201 East 2150 North Suite E, Layton Utah 84041
Where To Buy SmartGuard RX?
Click here to buy SmartGuard RX
---
No Comments
---
---