Last updated: August 6th, 2023
---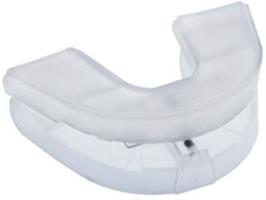 Presenting the SomnoGuard AP2, the latest advancement from the renowned SomnoGuard series.
It has been designed to offer an enhanced user experience by incorporating the cherished features of its predecessor, the original SomnoGuard AP, and introducing design improvements.
Key Features
20% lower vertical profile ensures better fitting and maximum comfort.
Unrestricted lateral freedom of movement.
Allows the user to breathe through the mouth comfortably.
Precise titration for effective adjustment.
Redesigned interface for a sleeker profile.
Reinforced C-Channel for enhanced durability.
Titration Gauge seamlessly incorporated into the upper and lower tray.
Design Enhancements
The AP2 doesn't just stop at replicating the positives of the original AP. It brings forward several significant design improvements:
25% larger SS Titration Screw for extended durability.
Hex Head Titration Mechanism ensures better adjustment of the Titration Screw.
Watch the SomnoGuard Custom Fitting Demonstration Video
Pricing & Discounts
The SomnoGuard AP2 is not just about improved design and functionality; it also offers value for money. Its competitive pricing ensures that patients get top-notch care without burning a hole in their pocket. Moreover, the immediate initiation of therapy, without any waiting period, elevates the overall experience.
If you need to make revisions due to dental work during the product's lifespan, there's no additional cost. To know more about the pricing and quantity discounts available, call customer service at 866-720-8080 or contact your representative.
Discount Tiers & Quarterly Purchase Rewards Program
As a commitment to continuous usage, SomnoGuard introduces additional discount tiers. Based on your purchase volume over the last quarter (90 days), you can qualify for attractive discounts. For instance, a consistent order of 5 SomnoGuards a month for three consecutive months makes you eligible for 15 unit pricing.
Note: Discounts are valid only on the order date and cannot be applied retroactively. Regular reminders will be sent by mail to notify about the upcoming 90-day qualifying period. These proactive tiered discounts are available with standing purchase orders and an auto-payment system in place for auto-shipment and billing.
Get a Quote
Want to know more about the Quarterly Quantity Discount Program? Reach out at 866-720-8080 or contact your representative today.
FAQ
What's the price of SomnoGuard AP2?

The SomnoGuard AP2 is competitively priced. For detailed pricing and discounts, contact customer service or your representative.

Is there a warranty on SomnoGuard AP2?

Specific warranty details can be obtained from the manufacturer or the representative.

How does the Quarterly Purchase Rewards Program work?

Based on your purchase volume over the last 90 days, you can avail attractive discounts on the SomnoGuard AP2.
Selecting A Snoring Mouthpiece
To see if a mouthpiece suits you, explore our mouthpiece review page and test it at home.
---
No Comments
---
---