Last updated: August 16th, 2023
---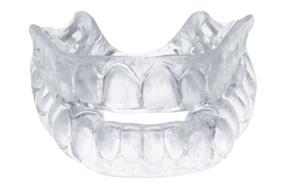 If you're searching for an effective, clinically proven solution for snoring and mild to moderate OSA, SleepPro Custom might just be the answer. Designed with precision and comfort in mind, this mouthpiece has earned recognition and recommendations globally. Let's dive into the features and benefits of this product.
Key Features and Benefits
Clinically Proven: Extensively tested and endorsed for snoring and mild to moderate OSA.
Affordable: Offers a cost-effective alternative to dental products without compromising on quality.
Customized Fit: Tailored to fit your dental profile, ensuring maximum comfort and efficiency.
Global Recommendations: Favored by Doctors and Sleep Disorder Clinics around the world.
Safe Materials: Crafted without BPA and Latex for your safety.
Why Choose SleepPro Custom?
As the name suggests, SleepPro Custom is a bespoke mouthpiece developed specifically to tackle snoring. It's been celebrated for its affordability, especially when compared to other dental-fitted devices. The top-tier medical endorsement it received from sleep specialists at Papworth Hospital stands as a testament to its effectiveness.
For users who've tried generic "boil and bite" mouthpieces, SleepPro Custom offers a remarkable upgrade, delivering an unparalleled comfort and fit that promises not just to stop snoring but also to enhance your overall health.
Research-Backed Excellence
Renowned for their contributions to heart research and respiratory disorders, Papworth Hospital's leading medical researchers have concluded that SleepPro Custom stands out as an "evidence-based mandibular advancement device" that doesn't break the bank. Their key findings suggest:
It's the first-line treatment for mild OSA and snoring.
It's a recommended alternative to CPAP for moderate OSA cases.
How Does It Work?
We provide a professional dental impression kit, which allows you to easily take an impression of your teeth at home.
Utilize the included temporary device for a few nights or until you observe positive results. Alternatively, you can send us your current MAD device for alignment.
Post your impressions, temporary device, and order details to SleepPro, and they will craft your very own SleepPro Custom.
Say goodbye to snoring and welcome peaceful nights!
Special Announcement: Anti-Microbial Version Available
The new SleepPro Custom AM technology now comes infused with silver ions, providing an extra layer of hygiene by inhibiting bacterial growth. Not only does this feature ensure the mouthpiece remains fresh for longer, but it also guarantees a comfortable fit while extending its lifespan and protecting your teeth.
FAQs
What is the price of the SleepPro Custom?
The SleepPro Custom is priced competitively, offering a perfect balance of affordability and quality.
Is there a discount for existing SleepPro customers?
Yes! If you've purchased a SleepPro product within the last 6 months, you can avail a 10% discount when you upgrade to SleepPro Custom. Email SleepPro with your previous order details to get your special discount code.
Is the SleepPro Custom safe and hygienic?
Absolutely. The Anti-Microbial version, SleepPro Custom AM, ensures long-lasting hygienic protection. Its surface prevents microbial survival, further safeguarding your teeth and extending product life.
DIY Alternatives
If you want to find a mouthpiece to test at home before trying a custom snoring mouthpiece, check out our best snoring mouthpiece review page.
---
No Comments
---
---