Last updated: August 6th, 2023
---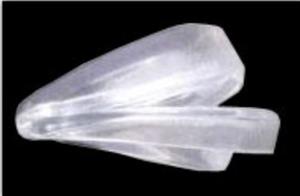 Snoring can disrupt a good night's sleep, not just for the snorer, but also for their loved ones. Introducing the NOISELEZZ Anti-Snore Mouth Guard, a two-tray hinged device that promises to diminish, if not completely eliminate, those noisy nights.
What is the NOISELEZZ Anti-Snore Mouth Guard?
The mouth guard is meticulously designed using soft, high-quality dental resin to ensure maximum comfort for its wearers. It is a two-tray hinged device meant to be worn while sleeping. Its primary function? To open up your airway, ensuring you snore less, or not at all.
How does it work?
It's simple. The top tray fits over your top teeth and the bottom tray over the lower ones. This arrangement gently pushes the bottom jaw forward, preventing it from falling back. This ensures the airway remains open and the tongue doesn't touch the back of the throat's soft tissues. Without the NOISELEZZ mouth guard, restricted airflow can cause vibrations, commonly known as snoring.
Setting it Up
Position the Noiselezz device by folding it as illustrated in the provided diagram. Insert it into your mouth ensuring the shorter side faces upwards. Align your teeth to the device's grooves, and you're all set for a peaceful night.
Here's the science: The device subtly shifts your lower jaw forward. This opens up the airways, effectively putting an end to snoring.
The 'Adjustment Phase'
Adapting to the Noiselezz device takes anywhere between two to three weeks for most users. It's not uncommon during the initial days to find wearing the device through the night a tad uncomfortable, or even waking up without it. This is normal.
For a better fit, follow this evening routine: After brushing your teeth, make sure to suck out any saliva trapped in the grooves of your teeth. This helps the device sit more securely. Over time, you'll become more accustomed to your new sleep companion. Any initial discomfort around the jaws or teeth usually fades after the device is removed and tends to diminish with repeated use.
Within a few weeks, the sensation of having a foreign object in your mouth should disappear. Most individuals don't face major hiccups during this adjustment phase, so it's crucial to stay patient and committed in the beginning.
The Reward
With consistent use, both you and your partner will soon notice and appreciate the silence and better quality of sleep. Stick with it; the benefits are worth the initial adjustment!
Why choose NOISELEZZ?
Several reasons make NOISELEZZ a top choice:
Sleep clinics vouch for it, with a whopping 94% success rate.
It boasts a global patent, granted on 4/9/98 with serial number 691849.
Affordability: While custom mouthpieces and CPAP machines can set you back by hundreds or even thousands of dollars, the NOISELEZZ mouth guard starts at just $129.
Guarantee & Purchase Options
You can buy the NOISELEZZ mouth guard in two ways:
With a Guarantee: You have a full 30 days from the purchase date to test out the device. If it doesn't meet your expectations, you can return it for a full refund (excluding shipping), as long as it hasn't been damaged or modified, including molding it in warm water. The device should be returned in its original packaging along with the instruction manual.
Without a Guarantee: If you're already familiar with the product and don't require a guarantee, this option is for you, allowing you to save a bit more.
Benefits of NOISELEZZ
Using the NOISELEZZ mouth guard can change your nights and mornings:
Experience refreshing mornings.
No complaints from your partner about nightly noise.
Stay in your bed – no more retreating to the spare room.
Easy maintenance and cleaning.
A cost-effective solution without the need for expensive equipment.
About KVG Australia Pty Ltd
KVG Australia is the proud sole distributor of NOISELEZZ in Australia & New Zealand. As a service-centric company, they prioritize efficient, friendly, and professional interactions with their clients.
Frequently Asked Questions (FAQs)
How does the NOISELEZZ mouth guard stop snoring?

The device gently pushes the bottom jaw forward, ensuring the airway remains open and reduces the chances of snoring.

Is the mouth guard comfortable?

Yes, it's made of soft high-quality dental resin for optimized wearer comfort.

What if I'm not satisfied with the product?

You can avail of the 30-day money-back guarantee, provided the product is returned in its original condition and packaging.

How do I clean the NOISELEZZ mouth guard?

Cleaning is straightforward; all you need is soap and water.
Finding A Mouthpiece
Discover the right mouthpiece for you by checking out our snoring guard reviews and trying it at home.
---
No Comments
---
---