Last updated: August 8th, 2023
---
When you buy through our links, we may earn a commission. Products or services may be offered by an affiliated entity. Learn more.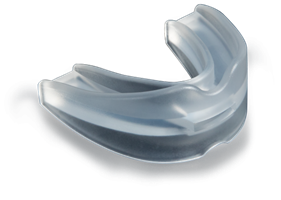 The M1 MRD is an FDA-approved Entry-level Mandibular Repositioning Device (MRD) designed to help you get back your peaceful sleep.
It works by effectively putting a stop to snoring and teeth grinding at night, guaranteeing you a seamless sleep experience. Its perfect fit for your mouth ensures comfort and effectiveness.
Buy direct: sleepon.us
Why Choose the M1 MRD?
Effectiveness Backed by Clinical Evidence
Clinical studies have shown superior results of the M1 MRD on the Apnea-Hypopnea Index (AHI) when compared to upper airway surgery.
Users report that snoring stops completely, providing a better night's sleep. One user said, "When I first heard of the MRD mouthpiece, I was skeptical. My major concern was that it would be very uncomfortable. I'm pleased to say, the discomfort is minimal and my snoring has stopped. It's worth it."
Safety Ensured
The M1 MRD is crafted from FDA-approved food-grade silicone material, which is softer to prevent any irritation or further obstruction. Using M1 protects your teeth and jaw, giving you the assurance of safety while using the product.
Simple and Convenient
The M1 MRD is designed with simplicity and convenience in mind. It provides an easy and quick molding to fit your mouth at home, which means no dental visits! Moreover, it's ideal for those who travel frequently or prefer a non-generator option for camping. It's simple to clean with a normal dental wash and comes with a handy case for storage and transportation.
How does M1 MRD work?
The M1 MRD is a small plastic device that fits over the teeth during sleep. It works by holding the lower jaw in a forward position during sleep to prevent the collapse of the tongue and soft tissues in the back of the throat.
What's included with your purchase?
M1 MRD x 1
Handle x 1
Case x 1
User manual x 1
Frequently Asked Questions (FAQs)
Are there any side effects?
Yes, like all treatments, M1 MRD has potential side effects.
These may include drooling, uncomfortable oral feelings, and teeth movements that affect chewing. These are more likely to occur with prolonged use of M1 MRD.
Who should not use the M1 MRD?
Individuals with oral diseases like unfilled cavities, gum disease, etc., and overweight adults are advised not to use M1 MRD.
It may either damage your teeth or prove ineffective. Furthermore, those who have trouble breathing through the nose or heart irregularities should also exercise caution while using M1 MRD.
How much does the M1 MRD cost?
The MSRP is: $39.90 USD (Note: there are currently discounts on their site)
Shipping and Returns
We ship all orders within 2-3 business days and accept returns and exchanges for up to 30 days. Additionally, the M1 MRD comes with a 1-year warranty from the date of purchase. We ensure secure online payments for your peace of mind.
Summary
The M1 MRD is an FDA-approved Mandibular Repositioning Device designed to prevent snoring and teeth grinding, thus ensuring a peaceful sleep.
Backed by clinical evidence, it surpasses the effectiveness of upper airway surgery.
The device is made from FDA-approved food-grade silicone material, ensuring safety and comfort. It's easy to mold to fit your mouth, making it convenient for use at home or while traveling. However, it has some potential side effects and is not recommended for people with certain oral diseases, breathing difficulties, or heart irregularities. Each purchase includes a handle, a case, and a user manual.
The product ships within 2-3 business days and comes with a 30-day return policy and a 1-year warranty.
Buy direct: sleepon.us
---
Comments
No Comments
---
---