Last updated: August 5th, 2023
---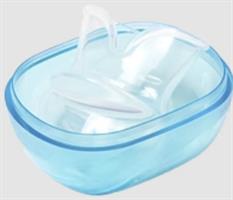 The AVEOtsd anti-snoring mouthpiece stands out as a tongue-retaining device (TRD), crafted from soft silicone. It aims to prevent snoring by gently drawing the tongue forward, expanding your airways.
AVEOtsd Mouthpiece Overview
This device offers affordability and comes in three distinct sizes. However, a physician's prescription is mandatory for its purchase in the U.S.
Construction and Effectiveness
The AVEOtsd claims to minimize or even eliminate snoring by stabilizing the tongue, enhancing airway openness. Its silicone construction ensures a gentle touch, boosting comfort. Although non-customizable, its availability in three sizes should cater to diverse user needs.
Noteworthy Aspects and Potential Concerns
Utilizing any TRD, including the AVEOtsd, might occasionally result in restricted mouth-breathing, dry mouth, or even drooling. If these are potential deterrents, perhaps consider a mandibular adjustment device (MAD).
Pros:
Three size options: small, medium, and large.
Soft and bendable silicone composition.
Efficient tongue suction mechanism.
Budget-friendly with a discount on a two-pack medium purchase.
Cons:
Lack of customization or adjustment options.
Potential initial discomfort for several weeks.
Not effective against bruxism.
Might cause drooling or dry mouth.
Who Should Consider the AVEOtsd?
This device is ideal for individuals not seeking a tailored mouthpiece and those with dental fixtures like braces or implants, unsuitable for MADs.
Ideal for:
Individuals preferring lightweight anti-snoring solutions.
Users without the need for tailored devices.
Those with dental fixtures like braces or implants.
Not suitable for:
Mouth-breathers.
Belly sleepers.
Individuals requiring a combined solution for snoring and bruxism.
Working Mechanism
AVEOtsd operates by gently propelling the tongue forward using a soft opening, ensuring the tongue doesn't obstruct breathing pathways. The external flange also aids in stabilizing the tongue.
Performance and Pricing
Although the FDA-approved AVEOtsd aids in airway openness, its non-customizable nature might fall short in comfort compared to MADs. Prices range from $89 for a single medium-sized mouthpiece to $139 for a two-pack.
AVEOtsd Design, Lifespan, and Care
The AVEOtsd boasts a unique tongue-retaining opening with an external flange. Crafted from medical-grade silicone, it offers a softer feel than its plastic counterparts. With apt care, it promises a lifespan of 12 months. Daily rinsing and weekly sterilized cleaning are recommended.
Procuring the AVEOtsd Mouthpiece
AVEOtsd can be sourced from their official site or third-party vendors like Amazon. Prices might fluctuate based on the purchasing platform. Each purchase includes a storage case for the device.
Additional Policies
AVEOtsd ships free across all U.S. states and most parts of Canada. They entertain returns within 60 days, albeit at the customer's shipping expense. The device also carries a 2-year warranty against potential defects.
---
No Comments
---
---