Last updated: August 16th, 2023
---
When you buy through our links, we may earn a commission. Products or services may be offered by an affiliated entity. Learn more.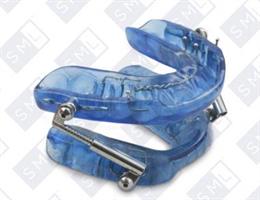 The Adjustable Herbst Appliance has become one of the most commonly recommended, most often prescribed devices for the relief of snoring and obstructive sleep apnea. Now, The Adjustable Herbst Appliance brings new ease and precision to in-chair adjustment.
Key Features:
New T-10 Hinge allows for more flexible placement (even in shorter arch cases) and 10 mm of advancement
T-10 hinges are telescopically designed for intra-oral activation – as opposed to exo-side activation (outside the mouth)
Anterior advancement holes promote Hex Driver activation in .25 mm increments
Etched mm marks on the hinge permit easier identification of advancement
Nylock coating in the hinge chamber prevents backing off of the screw. Welded stop prevents the screw from ever coming out of the chamber
Hex Driver activates the hinge screws for advancement and also is used for tightening or loosening the hex screws on the pivots
Material Options:
Our appliances for treating snoring and Obstructive Sleep Apnea can be fabricated using either Hard Orthodontic Splint Resin, i.e Polymethyl Methacrylate-PMMA), or Copolyester Vacuum Formed Material (either all hard material or dual-laminate hard-soft material). Please note the following when prescribing the material desired:
Hard Acrylic:
The Splint Resin (PMMA) can be used for all patients, but is recommended for patients with limited natural posterior undercuts, a number of edentulous spaces, or a number of significantly tipped or rotated teeth. It is also recommended for patients who will be needing restorations in the near future. The advantage of Splint Resin use in these situations is that it can be modified after initial fabrication. i.e. hollow-ground if a crown or implant is added during treatment. Also, the initial appliance can incorporate retentive clasps, preferably Ball Clasps, so that retention can be easily increased if needed. This is particularly helpful when patient lack natural posterior undercuts due to anatomical shape or limited eruption.
Dual-Laminate:
The Dual-Laminate material consists of a hard copolyester outer layer and a soft polyurethane inner layer that is pressure molded to the working model provided. The soft inner layer provides a very comfortable fit, especially when the appliance is initially delivered. For this material to be retentive it is important that the patient has a sufficient number of posterior teeth exhibiting good natural buccal and lingual undercuts (at least 8 teeth per arch). An accurate working model is very important as the soft inner layer cannot be adjusted to modify retention. The Dual-Laminate material is also BPA free.
DO NOTs:
DO NOT wear the appliance if it is broken.
DO NOT run or exercise with the appliance in your mouth.
DO NOT attempt to modify the appliance.
DO NOT share the appliance.
DO NOT attempt to pop the appliance in and out of your mouth with your tongue.
DO NOT bleach the appliance or soak in mouthwash or alcohol.
DO NOT place the appliance in hot or boiling water or expose to excessive heat.
DO NOT use toothpaste to clean the appliance. It will abrade the appliance.
Storing:
Always dry the appliance completely before storing. Place it in a dry plastic case whenever it is not in your mouth. Keep your appliance out of reach of family pets.
Warranty:
This appliance is custom made for ensured comfort and durability. It is warranted by the certified laboratory employed by your dentist. This is a manufacturer's warranty and is not a claim for eliminating snoring or improving obstructive sleep apnea. If your appliance is broken or damaged, discontinue use and contact your dentist to have it repaired -- before you re-use the appliance.
Care and Cleaning:
Be sure to keep your appliance trays clean. Examine them often for signs of wear and tear. If you suspect that damage has occurred, DO NOT wear your appliance until you contact your dentist and have your appliance inspected.
After each use, rinse your appliance in cold or lukewarm water.
Gently brush all surfaces with a mild soap and soft toothbrush.
DO NOT USE TOOTHPASTE. It will abrade the appliance.
Risks:
This device should not be used if you have Central Sleep Apnea (CSA), severe respiratory disorders, loose teeth or advanced periodontal disease, are under 18 years of age, have few or no teeth to retain the appliance, have inadequate range of motion of your lower jaw, have myofacial dysfunction (facial pain), have anthropathy of the TMJ (arthritis of the main jaw joint), are undergoing orthodontic treatment, or are undergoing dental work that requires temporary crowns.
Warnings:
Use of the appliance may cause gum irritation or dental soreness, pain or soreness of the jaw joint (TMJ) or facial muscles, increased salivation, and loosening and/or dislodging of dental fillings or crowns. If any of these problems occur, discontinue use of the appliance and call your dentist.
Alternatives
Visit our mouthpiece for snoring reviews page to discover a fitting option for home testing before committing to a custom mouthpiece.
---
Comments
No Comments
---
---